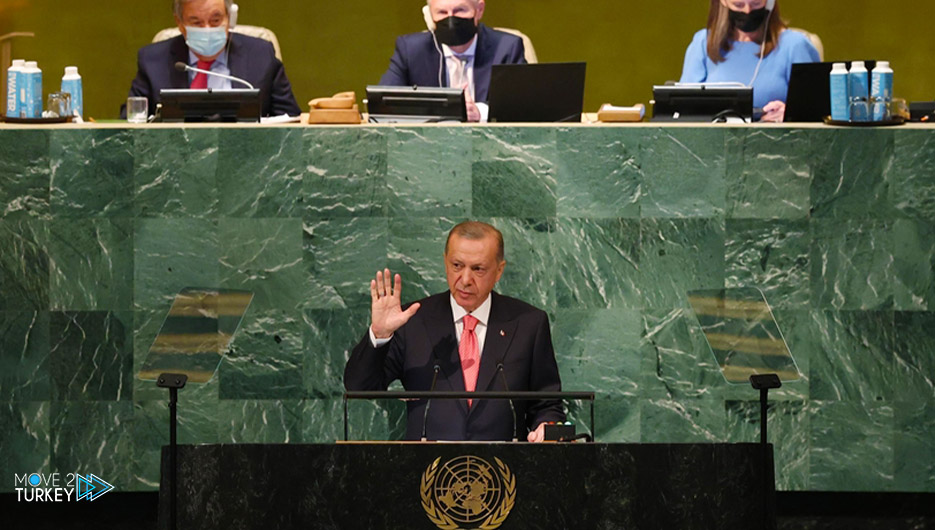 The New York Times praised the role of Turkish President Recep Tayyip Erdogan in the Russian-Ukrainian crisis.
The newspaper published a report highlighting President Erdogan's speech during the 77th session of the United Nations General Assembly.
The report indicated that Turkish President Erdogan and French President Emmanuel Macron were among the most prominent leaders who gave speeches during the first day of the General Assembly meetings.
The newspaper noted that Erdogan sought to mitigate the global effects of the Russian-Ukrainian war by maintaining his close relationship with his Russian counterpart Vladimir Putin throughout the war.
The newspaper quoted an excerpt from Erdogan's speech to the General Assembly, in which he said: "We believe that there will never be a winner in the war while there will be no loser in a just peace process. We must all find a reasonable, just and viable political solution that guarantees an honorable exit from the crisis for the Russian and Ukrainian parties."
And she continued, "Erdogan played a pivotal role in the grain negotiations."
While talking about Erdogan's diplomatic successes and endeavors, the newspaper mentioned Macron's contact with the Russian president for months without achieving any success.
The newspaper described him by saying, "(Macron), the spokesman for the Western alliance, claims that he can play a role in peace."
On February 24, Russia launched a military attack on Ukraine, which was followed by international rejection and economic sanctions against Moscow, which require Kyiv to abandon plans to join military entities to end its operation, which the latter considers an "interference" in its sovereignty.
On July 22, Turkey, Russia, Ukraine, and the United Nations signed the "Initiative Document for the Safe Shipping of Grain and Foodstuffs from Ukrainian Ports" during a meeting hosted by Istanbul.
Yesterday, Wednesday, President Erdoğan announced a Turkish-mediated prisoner exchange following diplomatic talks he held with his Russian and Ukrainian counterparts, Vladimir Putin, Volodymyr Zelensky.