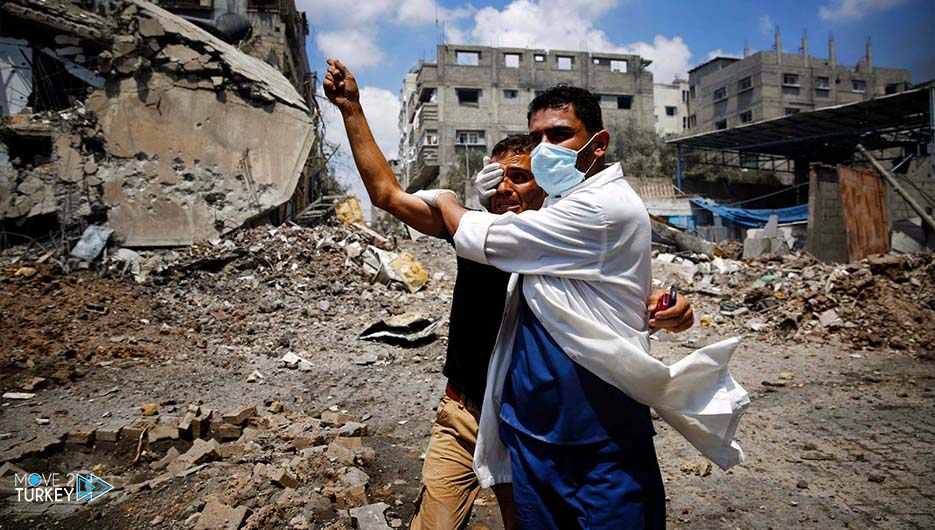 On Wednesday, the Palestinian Ministry of Health announced that about 55 very serious injuries were recorded, as a result of the continued Israeli aggression on the Gaza Strip for the tenth consecutive day.
Ashraf al-Qudra, a spokesman for the ministry, said in a statement that the total number of injuries amounted to about 1630, including 400 in the upper parts, and 153 in the head and neck.
Al-Qudra added that among the injuries, about 470 children and 310 were women.
Israel has also launched a massive aggression against the Gaza Strip since May 10.
According to the Ministry of Health, the Israeli aggression resulted in the death of 227 Palestinians, including 64 children, 38 women and 17 elderly.
Al-Qudra clarified that Israel "targeted about 24 health centers, which causes health teams to work in unsafe conditions and under the threat of direct and indirect targeting."
He stated that his ministry launched an "urgent distress appeal to provide $ 46.6 million to meet the needs of the health sector in terms of medicines, medical consumables and devices."
The Ministry of Health renewed its demands for "the concerned authorities to pressure Israel to open the crossings for the arrival of health aid and medical delegations, and to facilitate the movement of the wounded and sick to and from the Gaza Strip."
On the other hand, the Ministry of Health warned of the possibility of entering the Gaza Strip in a third wave of the Corona pandemic, and the spread of infectious and skin diseases due to the displacement of about 50 thousand citizens.
Al-Qidra said that these IDPs "live in inadequate health and living conditions in 52 shelter centers, which accelerate the possibility of a third occurrence of Corona."