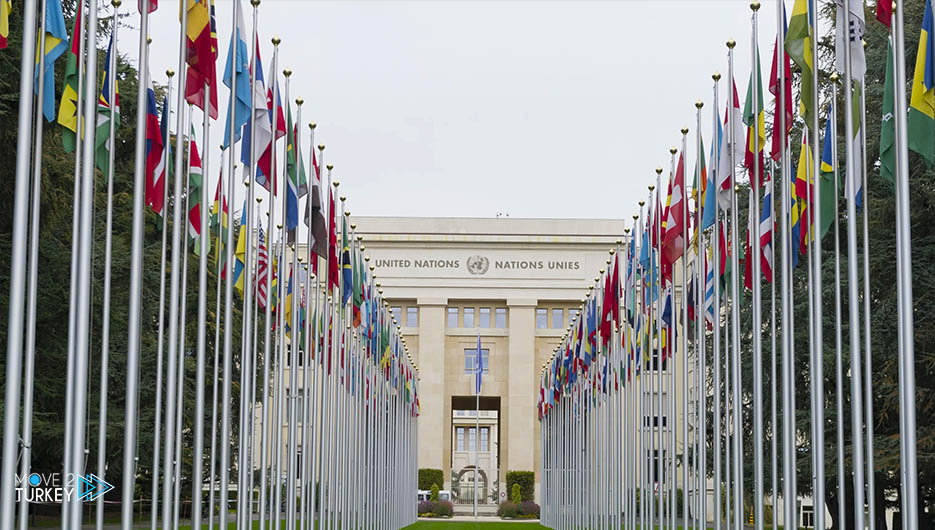 Activists closed the main entrance to the United Nations headquarters in New York on Monday in protest against the findings of the Glasgow UN Climate Change Conference, which ended its proceedings in Scotland on Saturday.
The activists raised slogans and chants saying "empty words and empty promises", while UN security staff had to use the door designated for entering cars as an entry point for diplomats, journalists, and international workers to the building.
The security staff of the headquarters confirmed that the private entrance to the cars will be used for some time.
And until the demonstrators are persuaded to move away from the main entrance to the headquarters and return it to work normally.
Earlier, United Nations Secretary-General Antonio Guterres considered that the final agreement reached by the "Glasgow Conference" is a compromise that reflects the contradictions of the world we live in today.
In a video message addressed to the conference participants, he said: "The approved text before us is a compromise that reflects interests, circumstances, contradictions, and the state of political will in the world today."
"Unfortunately, the collective political will was not enough to overcome the deep contradictions," he added.
"I want to tell young people, indigenous communities, and women leaders, I know many of you are frustrated, but the path to progress is not always a straight line," he continued.
Guterres added: "Sometimes there are detours, and sometimes there are pits, and we will not reach our destination in one day or one conference. We are in the battle of our lives and we will not despair and will never retreat."
The conference adopted an agreement aimed at accelerating the pace of combating global warming without confirming keeping it within the 1.5 degree Celsius ceiling.
The agreement also did not provide the necessary funding for poor countries to help them adapt to climate changes.