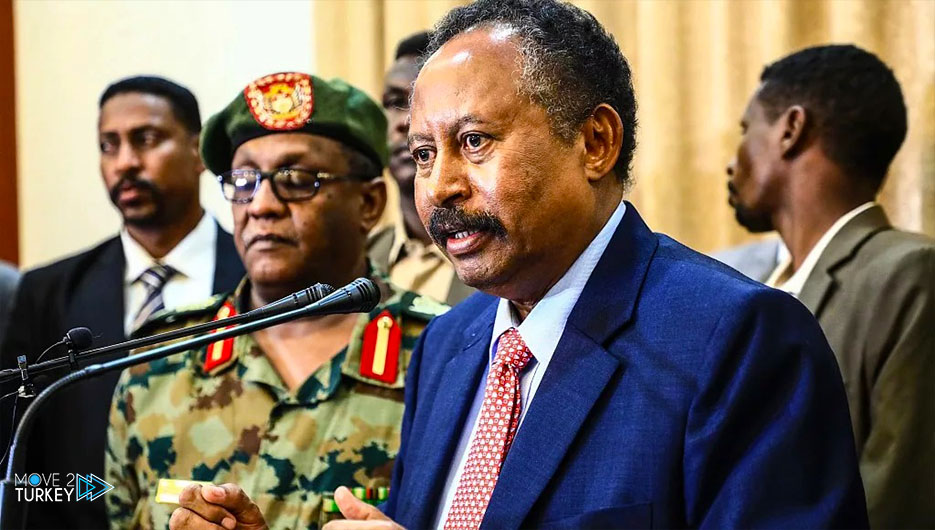 On Sunday, Sudanese Prime Minister Abdalla Hamdok was briefed on the arrangements for a government delegation's upcoming visit to Turkey, and the agreements that are underway between the two countries.
This came when Hamdok chaired the preparatory meeting for the visit of the government delegation consisting of 4 ministers to Turkey (without specifying dates and details).
To follow up on the results of the last Sudanese visit to Ankara on May 27, according to the Sudanese News Agency (SUNA).
According to the source, the meeting took place in the presence of the ministers of "defense, finance, agriculture, health, higher education, youth, and sports."
He said that the meeting reviewed the agreements that are under an understanding with the Turkish side, which included 22 agreements, 13 of them with the public sector, and 9 with the private sector.
SUNA indicated that the meeting reassured the arrangements made to discuss these agreements and sign some of them with the Turkish side.
On May 27, the Deputy Chairman of the Sovereignty Council, Mohamed Hamdan Dagalo, "Hemedti" visited Turkey.
He was accompanied by a delegation that included the ministers of "Agriculture", "Energy", "Livestock", "Transport" and "Urban Development".
After his return from Turkey, Hemedti said that "we agreed to update all previous agreements," without further details.
Relations between Ankara and Khartoum have been developing since the Justice and Development Party came to power in Turkey in 2002 when it developed an ambitious plan to enhance communication with African countries.
Bilateral relations have also witnessed a wide movement since the visit of Turkish President Recep Tayyip Erdogan to Sudan in December 2017, when the two countries signed 22 agreements and memoranda of understanding in many fields.
These agreements and memoranda include cooperation in the fields of education, agriculture, industry, trade, iron and steel industry, and exploration.
In addition to the field of energy exploration, the development of gold extraction, the construction of silos, health services, and thermal and electrical generation.