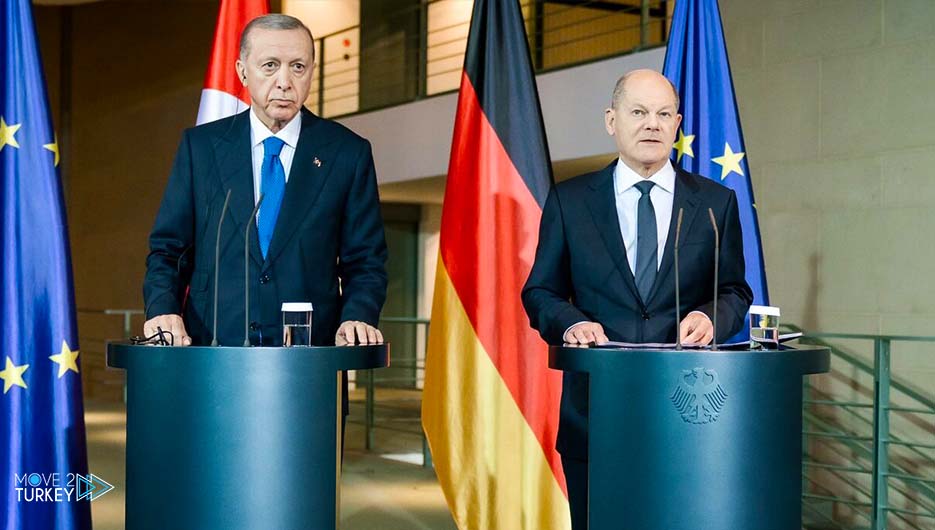 German Chancellor Olaf Scholz said that Turkey played a constructive and important role in exporting grains from Ukraine, expressing his thanks to President Recep Tayyip Erdogan for his personal contributions in this regard.
This came in a press conference by the German Chancellor and the Turkish President as part of a one-day working visit by Erdogan to the capital, Berlin.
Scholz explained: "Turkey played a constructive and important role in exporting grains from Ukraine. I thank President Erdogan for his personal contributions."
The German Chancellor pointed out that they are dealing with many crises in the world.
He stated that they agreed with President Erdogan to end "Russian aggression" against Ukraine.
He recalled that the proposal regarding the protocol for Sweden's accession to NATO had been submitted to the Turkish Parliament for ratification, expressing his belief that Sweden would become a member of it.
Referring to the Israeli attacks on Gaza, Scholz said that they "unequivocally condemn Hamas."
He added: "We will talk about what we can do in light of the tension in the region. We are concerned about the spread of conflict in the region."
He continued: "Israel has the right to defend itself in accordance with international law, and we say that every life has equal value. What the people of Gaza are going through also saddens us, and this year we are also providing assistance worth 160 million euros."
He continued: "The two-state solution must be the ultimate goal. Israel's right to exist is a must for us, and there is no place for anti-Semitism in our country."
Regarding the number of Muslims in his country, Scholz said, "Five million Muslims have a place here in Germany, and we are against those who deny them."
The German Chancellor stated that there are great tensions in the Middle East and that what is happening in the region concerns them.
He added: "It is true that we partly differ in opinions. It is important to speak directly in difficult times."
He indicated that he would discuss with President Erdogan the tangible progress regarding Turkey's membership in the European Union, adding: "We have fallen behind our potential in relations, and we will see what kind of progress we can achieve here."
Speaking about the importance of irregular migration, Scholz said: "We want to reduce it. A good agreement was reached (with Turkey) in 2016. We want to contribute to improving (this agreement) in the European Union and maintaining it. This agreement is for our mutual benefit." .
He stressed that the German and Turkish peoples have close relations in many aspects, indicating that the importance of this relationship was demonstrated by the aid provided by Germany during the earthquake of February 6, 2023 in Turkey.
In the question-and-answer section of the press conference, Scholz reiterated Germany's support for Israel's right to defend itself and said: "We must reduce the number of civilian casualties."
He stressed that Germany had taken steps at an early stage to allow humanitarian aid into Gaza, and accused Hamas of "holding Gaza hostage."
He pointed out that negotiations had been held with countries such as Egypt, Qatar and Turkey to release the hostages and allow foreign citizens in Gaza to leave the region, recalling that this issue was also raised at the European Union summit.
Scholz said that Hamas should be prevented from repeating the attacks of last October 7, stressing the need to support the two-state solution as a perspective for the future.
He pointed to the importance of Turkey's support for the Black Sea Grains Initiative, adding: "There was very good mediation (by Turkey). Unfortunately, and very sadly, Russia withdrew from this agreement."