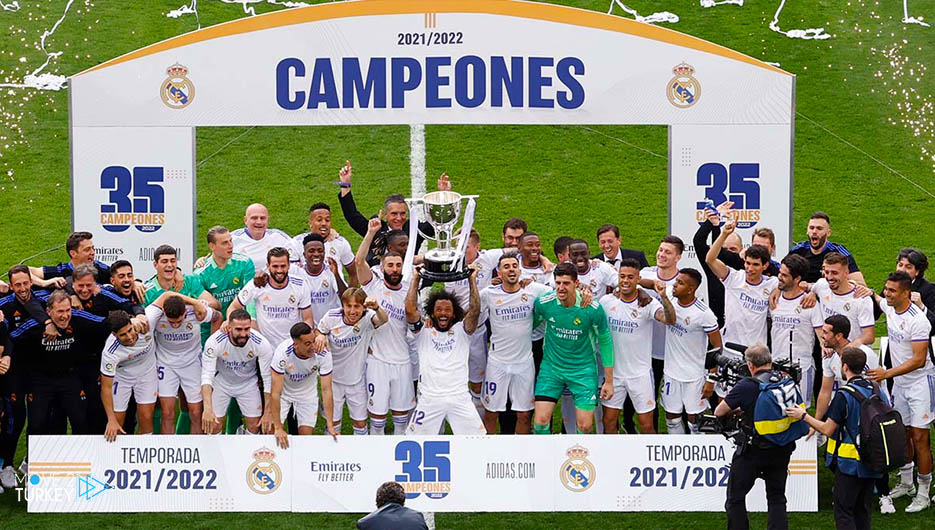 Real Madrid officially crowned the Spanish Football League for the 35th time in its history, after defeating its guest Espanyol by four clean goals on Saturday in the 34th round of "La Liga".
Real scored its first goal in the 33rd minute, from a soccer ball by veteran Brazilian Marcelo to his young compatriot Rodrygo, who dribbled and hit the side beyond the goalkeeper's reach.
The Italian team, Carlo Ancelotti, controlled the course of the game without any threat to his goal by Espanyol, which allowed Real Madrid to score a second goal, which Rodrigo also signed in the 43rd minute.
Real's desire to settle matters early made the team press at the beginning of the second half, until Marco Asensio added the third goal with the 55th minute.
The result remained the same until the 81st minute, when the French Karim Benzema scored a fourth goal after a cross from Vinicius Juniors, which he followed with his foot into the net.
With this deserved victory, Real Madrid raised its score to 81 points at the top of the standings, 17 points behind its closest rivals, 4 rounds before the end of the season.
On the other hand, Espanyol's balance froze at 39 points and remained in thirteenth place, not far from the danger zones, as it is 9 points separated from the 17th place holder.