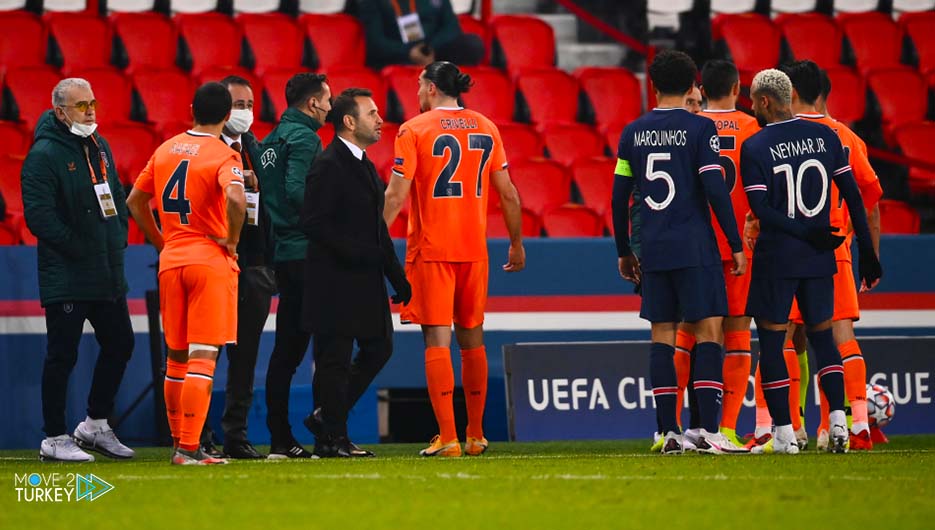 The Senegalese striker of the Basaksehir team in Istanbul revealed the racist words used by the fourth referee with the team coach.
During the match between Paris Saint-Germain and Basaksehir in the sixth week of the group stage of the European Champions League on Tuesday evening, the match was stopped due to what the Turkish team members described as racist behavior by the fourth referee.
Senegal striker "Demba Ba" revealed that the fourth referee had used the word "black" to address one of the team's coaches.
The accident occurred in the 16th minute, and after a series of interactions, the referee decided to show a member of the Basaksehir team a red card, which was later identified as "Pera Weibo", assistant coach of the Cameroonian national team.
Fourth referee Sebastian Koletskio intervened to help identify the culprit (Weibo) who appeared to have used the word "black" in the meantime, sparking controversy on the field, and after a few minutes the players of Basaksehir refused to continue the game.
As a result, the match was stopped completely in the 23rd minute and was postponed to Wednesday in the presence of another fourth referee.
Senegalese striker Demba Ba addressed the fourth referee on the field with a racist cry and said, "When you talk about a white player, you don't say this white person, you say this person. So why when you mention a black person you should say this black person? I really do not understand this.
UEFA's reaction to this racist insult
In response to this racist insult directed by the fourth referee of the UEFA Champions League matches to the assistant coach of the Turkish team Basaksehir, UEFA announced that it would not accept any discrimination or racism in football.
UEFA's response to the racist insult of Sebastian Koltisco, the fourth Romanian referee in the Paris Saint-Germain and Istanbul Basaksehir match in the sixth and final week of the UEFA Champions League group stage. Racism is not acceptable in football.
The Romanian Football Association also announced in connection with this action by Sebastian Koltisco: The necessary measures will be taken in line with the UEFA report on this incident. We oppose any violence, racism or xenophobia.
Like the Istanbul team in Basaksehir, the Paris Saint-Germain team tweeted "No to racism".
Paris Saint-Germain players, Kylian Mbappé and Presnel Kimpembe, also posted on their social media accounts the message "We are by your side, Old Web" and "No to racism".
The Olympic Football Club Lyon, France and Milan, Italy, also issued messages opposing any racism and intolerance.