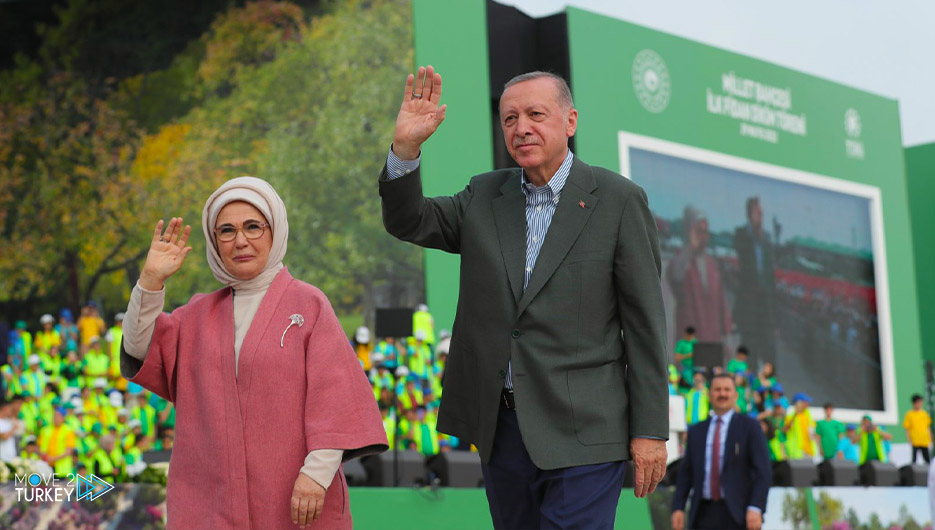 On Sunday, Turkish President Recep Tayyip Erdogan participated in the planting of the first seedlings in the People's Garden, which is being built at the site of Ataturk Airport, which is scheduled to open in 2023.
Erdogan began his speech on this occasion, which coincides with the 569th anniversary of the conquest of Istanbul, with the prophetic hadith: "To conquer Constantinople, let the prince be its emir, and bless the army that army."
The Turkish president said: "What we are talking about as a vision today will tomorrow become a real reality for our country," referring to the vision of 2053, the 600th anniversary of the conquest of Istanbul.
He called on the opposition to compete to do good, provide services to the people, and remove obstacles and problems facing the Turkish people.
Erdogan said: "Let's compete in setting visions for the people. We in the People's Alliance are ready for all this, but we do not want this competition to be blind and a source of hostility, slander and lies."
He added, "God willing, today we will achieve the goals of the year 2023 and are approaching step by step to achieve the vision of 2053."
The Turkish president touched on the challenges surrounding and facing Turkey in the issues of Ukraine, the Aegean Sea, the Caucasus, the Balkans, Syria, Iraq, Palestine, Libya and the Mediterranean.
After the Turkish president's speech, the Ottoman Muhtar choir played the independence anthem, then the imam of the Grand Aya Sofya Mosque, Benjamin Topgooglu, recited Surat Al-Fath.
After the supplication read by the Head of Religious Affairs Ali Erbash, a film called "People's Gardens" was shown, in which the gardens and parks that were established in Turkey recently and representative scenes of the conquest of Istanbul were shown.
The People's Park is the largest in Turkey and the fifth in the world. The park, which is located on the land of Ataturk Airport in the center of Istanbul, is 5 million and 61 thousand square meters.
The total number of trees and seedlings in the park will be 145,300, a figure inspired by the year of the conquest of Istanbul (1453).
The park will be designated for hiking, and there will be no means of transportation faster than walking, in order to ensure safe walking for children, mothers and the elderly.
It will open in May 2023 and will contain museums where artists will display their works and children's amusement parks.
On April 6, 2019, Atatürk International Airport bid farewell to its last scheduled foreign flights from Istanbul to Singapore, after transferring flights to Istanbul Airport, which was opened by President Erdogan in October 2018.