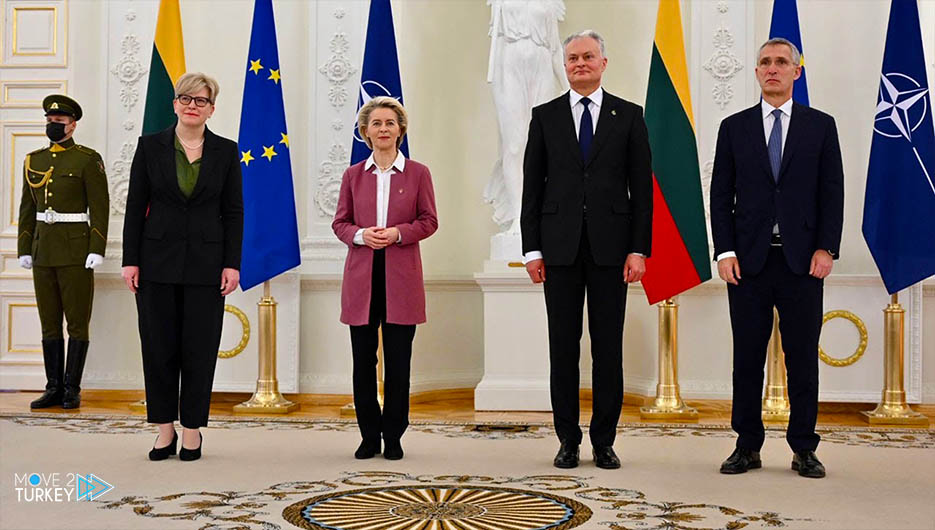 NATO Secretary-General Jens Stoltenberg and European Union Commission President Ursula von der Leyen made a solidarity visit to the Republic of Latvia, neighboring Belarus.
Stoltenberg and von der Leyen met with Latvian Prime Minister Krisjanis Karenz.
After the meeting, the three officials held a press conference, where Karenz confirmed that NATO and the European Union are closely monitoring the situation of migrants waiting on the Belarusian side to cross to the European Union.
He stressed that the European Union and NATO should send a clear message to Russia and stress that any step that would increase tensions would not be left unanswered, and Karenz demanded that NATO increase its presence in the Baltic states.
For her part, von der Leyen said that the European Union is in full solidarity with the neighboring countries of Belarus (Poland, Latvia, Lithuania).
She stressed the need for NATO and the European Union to stand side by side against all kinds of attacks and attacks.
She explained that the European Union will increase its assistance to the Baltic countries and Poland to protect the borders, and will provide technical support in this regard.
In turn, Stoltenberg said that the joint visits with von der Leyen to Lithuania and Latvia are an indication of the high-level cooperation between the European Union and NATO against challenges on the Belarusian border.
He stressed that NATO stands with Latvia and other allies directly affected by the situation on the border with Belarus.
In early November, thousands of asylum seekers tried to cross the border into Poland from Belarus.
There are currently about 4,000 asylum seekers on the borders of the two countries, according to the Polish News Agency.
The European Union accuses Belarusian President Alexander Lukashenko of coordinating the arrival of this wave of migrants and refugees to the eastern side of the bloc.
This is in response to the European sanctions imposed on his country after his regime's "brutal repression" against the opposition.