Estimated reading time: 9 minutes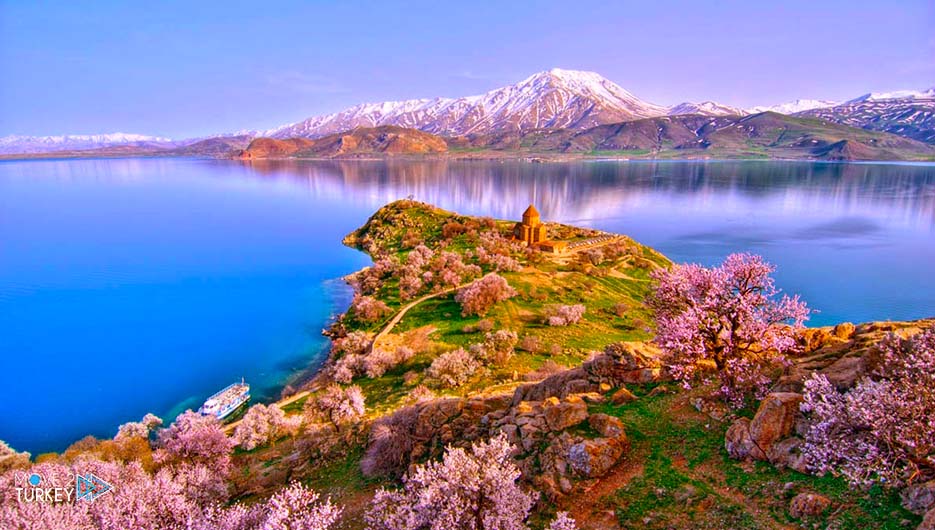 Turkey is one of the most important countries in the world in the field of travel and tourism. And at the same time, Van, as one of the cities in eastern Turkey, which is located in the Asian part, is one of the most important tourist destinations and the most popular among tourists.
Lake Van can be considered one of the most important tourist attractions in the city of Van in Turkey, which consists of many places with important tourist attractions. In this article we will tell you everything you need to know about the largest lake in Turkey.
If you are planning to visit this historic city, you should consider a special program to enjoy the entertainment of Lake Van.
So stay with us while we introduce you to Lake Van and the most important entertainment and facilities in this area.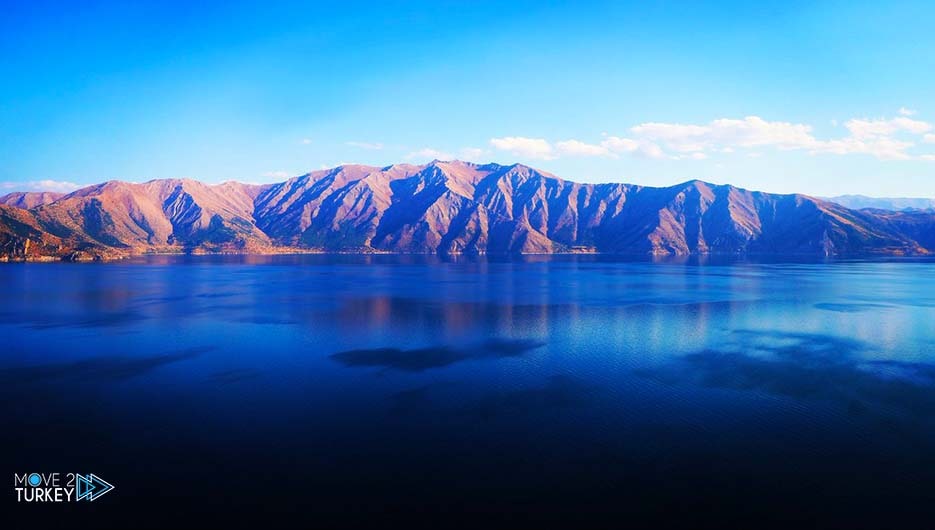 Introduction to Lake Van
Lake Van is located in the western part of the city and is adjacent to a beautiful high mountain.
The lake has an approximate area of ​​3,755 square kilometers, with a length of approximately 120 kilometers, and a width of 80 kilometers. It is known as the largest and most beautiful lake in the country.
When you reach Lake Van you will be amazed by the high mountains around it, some of them exceeding one kilometer in height.
The flowing water of these mountains, along with rainwater, are the main sources of water supply for the lake.
This lake is so unique that many distinct species of aquatic animals live in this lake which can not be found anywhere else in the world.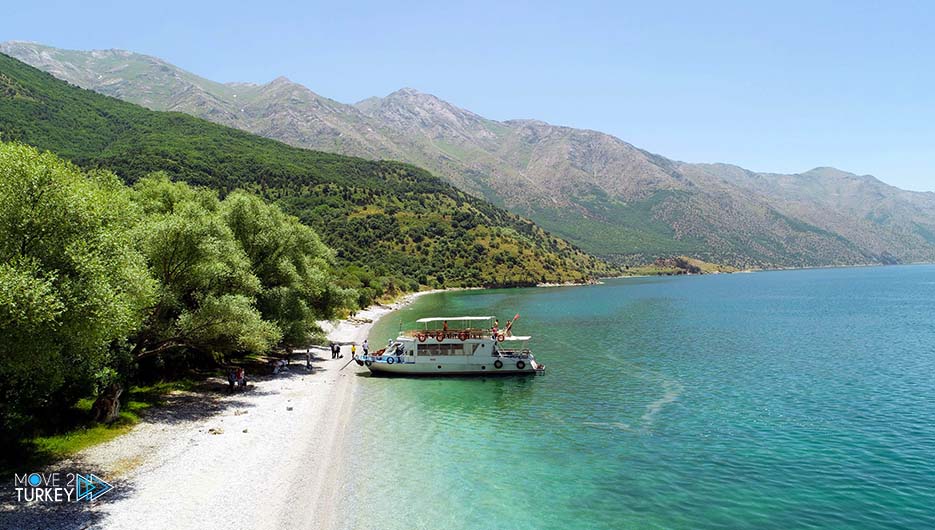 Most of the beaches of Lake Van are sandy and provide a perfect place for tourists to relax and unwind, but in other places, the beaches are rocky, and they literally create a scene that is not easy to forget.
In the central and adjacent parts of Lake Van there are many tourist attractions that we recommend to those coming to the city Van in Turkey to visit it.
The main attraction of this city is Lake Van. Thousands of years ago, a vast kingdom established around the lake and early humans settled near it, resulting in the presence of many ancient sites in the lake islands.
The lake was formed over 600,000 years ago, and it regularly hosts many water sports events such as sailing and shore regatta, as well as the Lake Van Festival.
A wonderful discovery in the heart of Lake Van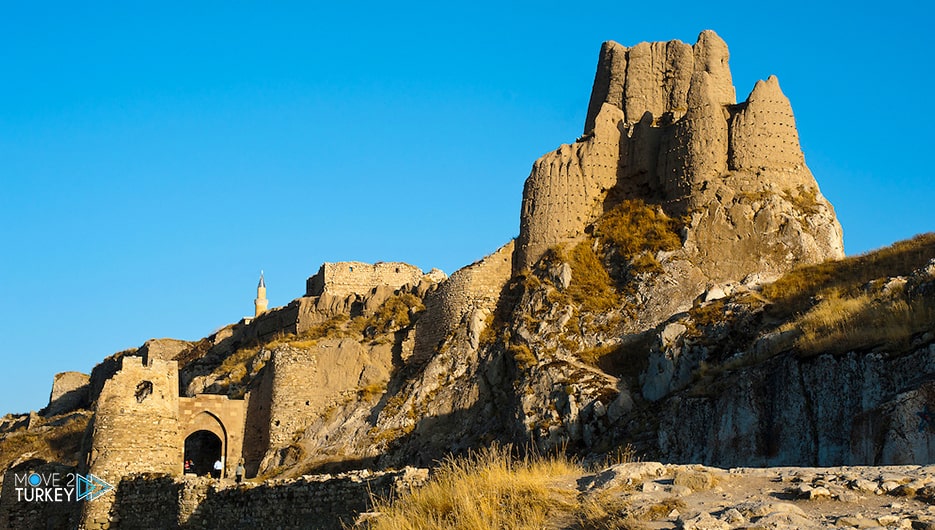 It was recently announced that a 3,000-year-old castle had been discovered deep in Lake Van, dating back to the Iron Age of Urartu.
The empire was formed around Lake Urmia and Van, and according to the discoveries, the area of ​​the castles discovered under the water is about 1 km and in some places they are about 4 meters high!
As we said, one of the oldest historical civilizations in the world was formed around Lake Van, the largest lake in Turkey. In historical books, Urartu is also referred to as the Kingdom of Van and the Kingdom of Ararat.
This civilization was formed in the Iron Age and the area under their rule was Lake Urmia and Van and the highlands of Armenia. The Urartu people were the ancestors of the ancient Georgians and Armenians and ruled the region between 1500 and 600 BC.
Akdamar island in Van
The beautiful Akdamar Island is one of the most beautiful attractions located in the heart of Lake Van which is only three kilometers offshore.
The island is completely deserted and uninhabited, but contains within it many beautiful natural scenery in Turkey.
At certain times of the year, especially in the spring, it is home to flowers, plants and flowering trees, which increase its amazing beauty and charm.
You can walk for hours on Akdamar Island and enjoy the tranquility, fresh air and natural beauty of this island.
Adir island in Van
Before Akdamar, Adair was the largest island in Van, Also called Lim Island, there is also a historical Armenian church, its name is Saint George.
The church is about 700 years old, And it was in use until about three hundred years ago.
During the attack on the Armenians, the island played an important role in protecting the Armenians.
At the beginning of the twentieth century and at the time of this tragic event, about 12,000 Armenian men and women sought refuge on the island of Adair to escape death.
Akdamar Church or Holy Cross Church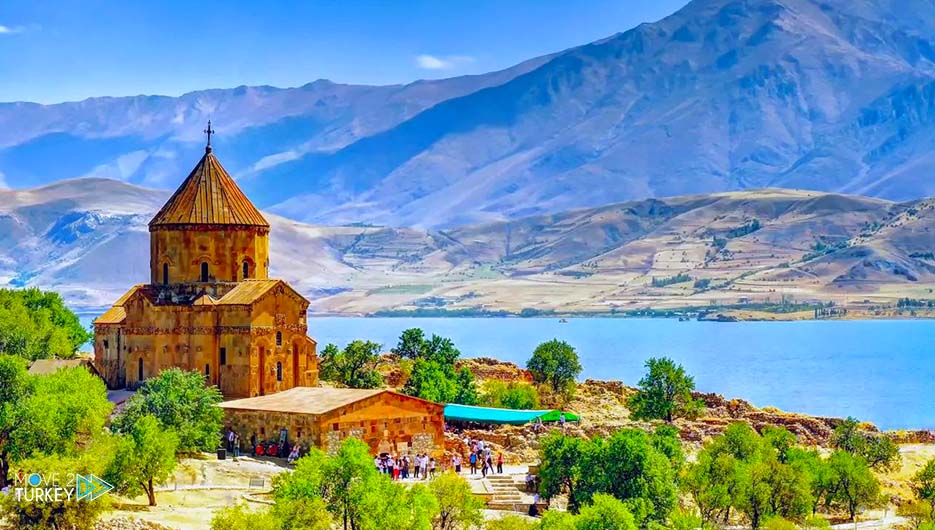 When you go to Akdamar Island, you will see a wonderful old church in the early parts of the island and close to the beach.
This church is over a thousand years old, but it still has strong foundations and walls that makes it look like it will last for hundreds of years to come.
This church is known as the famous Armenian Church and its designer and architect was a high priest named Manuel.
There are many myths about naming this church, which eventually led to naming the island, but some archaeologists refute these hypotheses, while others agree on the validity of some of them.
Leaving this topic aside, we must say that the overall architecture of this church will surprise you. So don't miss visiting this sacred and historic church when traveling to Van.
Ahlat Island
Ahlat Island is located on the northern shores of Lake Van, 42 km from Tatvan.
The island was known in ancient times as a very important bridge between the western and eastern parts of Turkey, and today it includes dozens of mosques, tombs and historical castles whose remains date back to the Seljuk and Ottoman eras.
However, the most important part of this historic island is the famous medieval cemetery, which attracts the attention of many tourists, historians and archaeologists. So pay special attention to this cemetery.
Mount Nemrut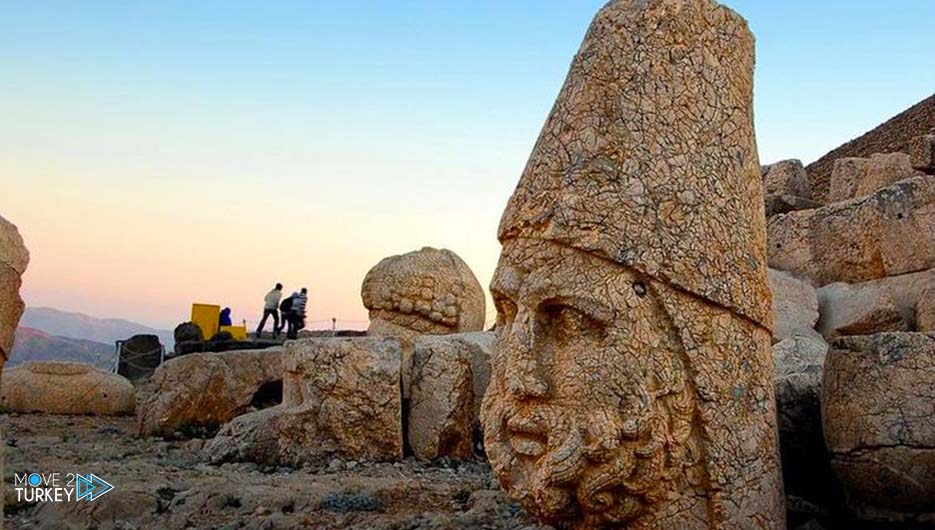 Mount Nemrut is one of the famous mountains adjacent to Lake Van and is very close to it.
Interestingly, there is a road from Tatvan city to the summit of the mountain at an altitude of 3000 meters above the crater that leads to the crater summit.
In this place there are lakes that contain mineral water, some of them with high temperatures and some of them with low temperatures.
There are also many cafes and restaurants in this area that allow you to take a break, and spend a lot of time exploring the Nemrut Mountain area.
If you want to make it more interesting, we can say that there is a distinctive ecosystem in the region.
As despite it being a volcanic area, some birds and turtles live in this area, and there is even a cool breeze blowing always around the area.
There are short trees at the crater and many places, Mount Nemrut has been mentioned as the strangest attraction of the city of Van.
Restaurants and cafes around Lake Van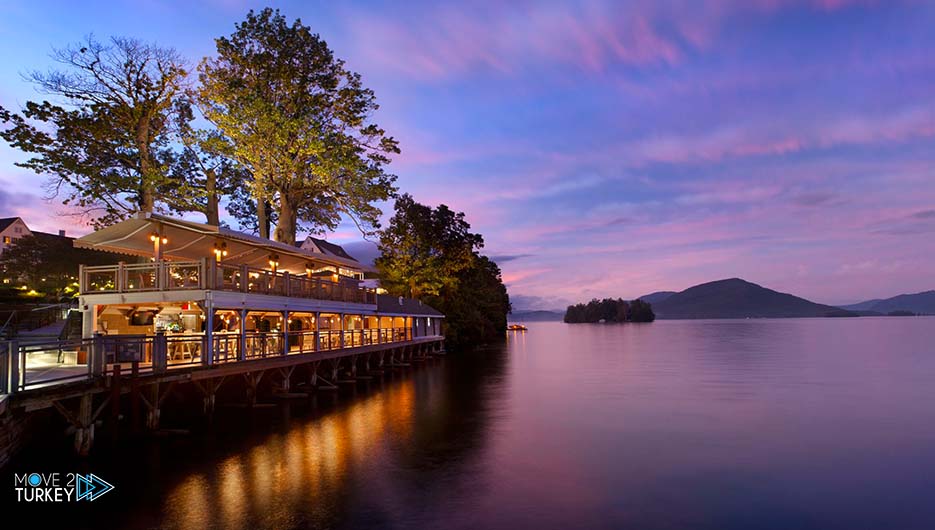 There are a lot of cafes and restaurants around Lake Van that provide good service to tourists.
If you are interested in learning about fun activities at Lake Van, you could visit Deniz Grand Restaurant.
At Deniz Grand Restaurant on the beautiful rocky shore of the lake, you can try a variety of local dishes such as grilled salmon.
Karavanserai Restaurant is also a popular place among tourists, located to the west of Kamhorit Castle, where this restaurant serves a variety of kebabs for its guests.
Tamara Agag Bashi Restaurant offers you a special offer, as in this restaurant it is possible to prepare food by the guest himself.
Besi is also a good restaurant in Van and around the lake, which welcomes you with classical music, yellow walls and a special atmosphere.
If you want to have a special dinner or lunch in a luxurious restaurant, you can visit Satchi Bayaz Restaurant.
Water activities at Lake Van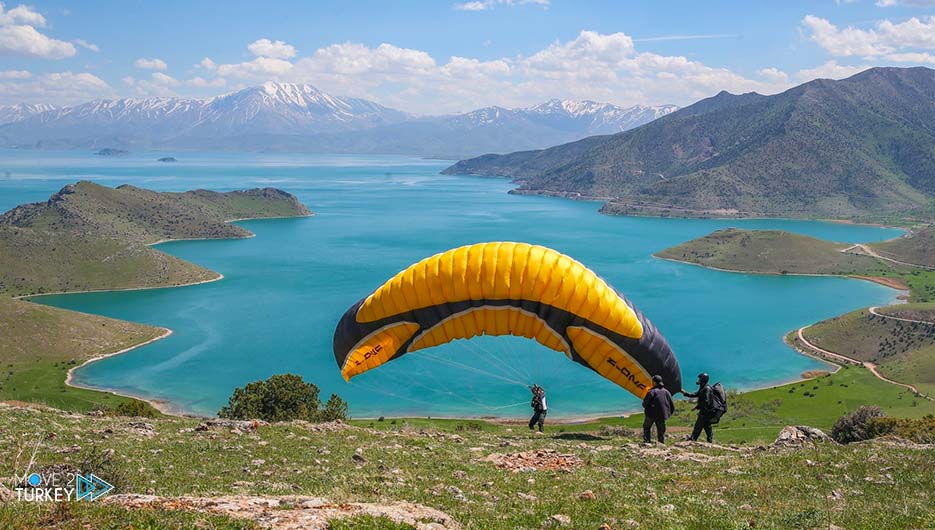 Like many other tourist destinations around the world, Lake Van has a variety of water and marine activities.
Since the temperature of the lake drops from minus 3 to minus 30 degrees on the cold days of the year, winter and late autumn days are not a good time for water activities in the lake.
But if you travel to Van in spring or summer, you can surely enjoy water entertainment in this region.
Boating, windsurfing, and sailing on the banks of Lake Van are among the most popular water sports on the lake.
You can spend many hours on the sandy and calm shores of this lake.
The curative value of Lake Van water
The intense salinity of Lake Van has many healing properties. It helps to cure many diseases, especially respiratory diseases, asthma and other lung diseases.
Studies conducted on Lake Van water have shown that it helps heal wounds and has a great role in getting rid of dandruff.