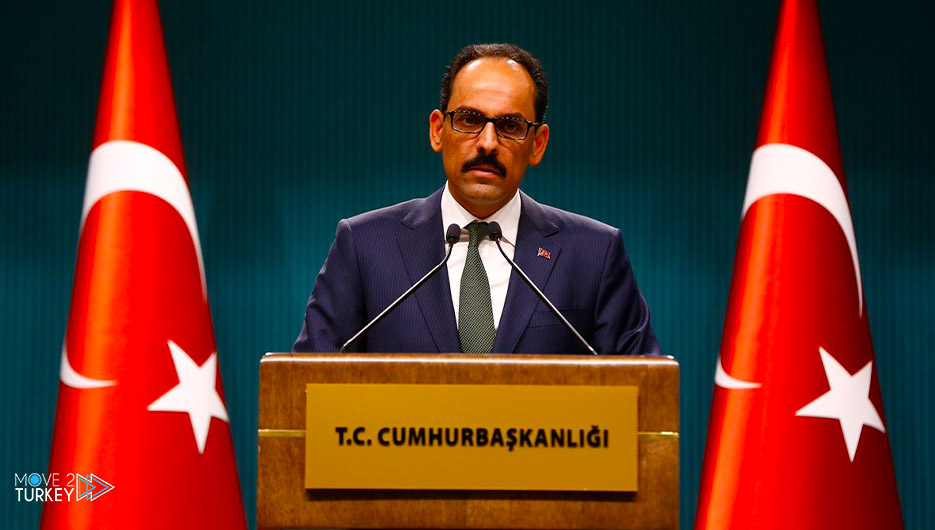 Turkish presidential spokesman Ibrahim Kalin said that the Ukrainian grain shipment agreement was resumed after President Recep Tayyip Erdogan called his Russian counterpart Vladimir Putin.
This came during his participation in a program on the TV channel "CNN International" to comment on the resumption of work in the grain shipping lane as it was before, days after Russia suspended the implementation of the agreement.
And last Monday, Moscow announced the suspension of the movement of ships through the safe passage specified under the Black Sea Initiative for the transport of grain, "because of its use by Ukraine in conducting combat operations against Russia."
On Wednesday, the Russian Defense Ministry announced the return of Moscow to participate in the grain shipment agreement, after obtaining the necessary written guarantees from Ukraine thanks to Turkey's support and the participation of the United Nations.
Kalin noted that grain is a separate issue from the war and Turkey has made very strong diplomatic efforts over the past three or four days.
He stated that the Turkish efforts included a phone call between Presidents Erdogan and Putin yesterday, with the participation of Defense Minister Hulusi Akar and Foreign Minister Mevlüt Çavuşoğlu.
The Turkish presidential spokesman explained that during this period, Ankara held talks with the Ukrainian side as well and informed it of Russia's demands and aspirations, and Kyiv's position was constructive in this regard.
He continued, "Russia returned to the agreement after the contact that took place between Presidents Putin and Erdogan, and now everything is fine."
On July 22, Istanbul witnessed the signing of the "Document on the Initiative for the Safe Shipping of Grain and Foodstuffs from Ukrainian Ports" between Turkey, Russia, Ukraine and the United Nations.
The agreement included securing exports of grain stuck in the Ukrainian ports on the Black Sea (Eastern Europe) to the world to address the global food shortage crisis, which threatens a humanitarian catastrophe.