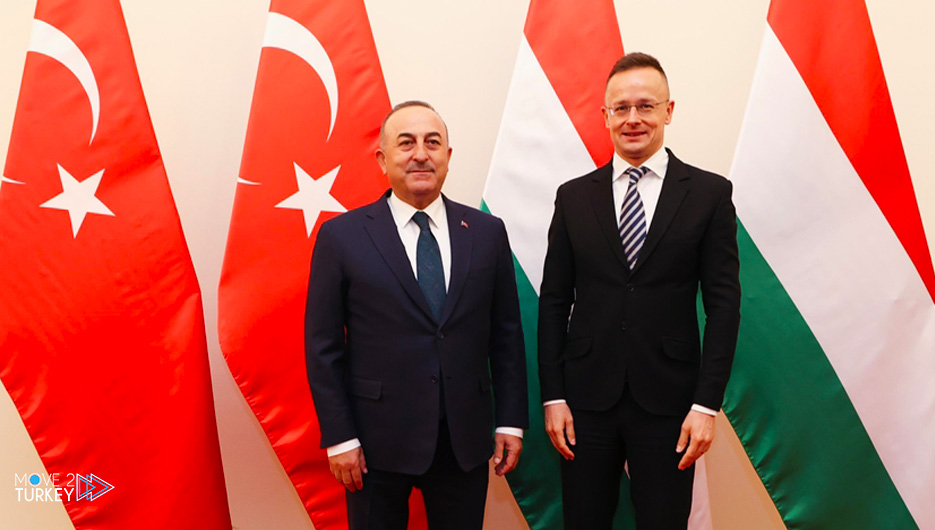 Turkish Foreign Minister Mevlüt Çavuşoğlu said that it is possible for Ankara to sit down with Sweden and talk to it about its accession to the North Atlantic Treaty Organization "NATO" if it fulfills its obligations.
This came in a press conference he held on Tuesday with his Hungarian counterpart, Peter Szijjarto, in the capital, Budapest, to which he is on an official visit.
Çavuşoğlu made it clear that it is not possible for Turkey, under these current circumstances, to agree to Sweden's accession to NATO.
He added that Turkey supports the idea of expanding the North Atlantic Treaty Organization and that Ankara is one of the five countries most contributing to NATO activities.
He continued: Turkey understands the security concerns of Sweden and Finland, but on the other hand, these two countries must understand Turkey's security concerns as well.
He mentioned that Sweden and Finland pledged to prevent the activities of terrorist organizations on their soil in the tripartite memorandum concluded on the sidelines of the NATO leaders' summit in Madrid last summer.
He pointed out that Finland is more keen than Sweden to implement the provisions of the memorandum, noting in this context that Ankara clearly notes the desire of the current Swedish government to implement the memorandum more than the previous government.
With regard to the burning of the Qur'an in Sweden, the Netherlands and Denmark, Çavuşoğlu said: "Actions that are considered crimes against humanity cannot be called freedom of thought and freedom of action."
He continued, "We Muslims consider anti-Semitism and anti-Christianity a crime against humanity, as well as anti-Islam."
Sweden, Denmark and the Netherlands have recently witnessed the burning of copies of the Holy Quran by far-right personalities, led by the leader of the Danish extremist "hard line" party, Rasmus Paludan.
Çavuşoğlu touched on the Russian-Ukrainian war, saying: "Turkey has sought from the outset to end the ongoing war based on the principle of no loser in a just peace."
He pointed out that Ukraine is asking for assistance from other countries to protect its lands.
On bilateral relations with Hungary, Cavusoglu said that they decided to raise the level of relations from a strategic partnership to an "enhanced strategic partnership."
He stated that he discussed with his Hungarian counterpart many issues such as economy, trade, aviation, energy, defense and education.
He pointed out that the volume of trade exchange approached 3.5 billion dollars and that there is a possibility to increase the number with the increased interest of Turkish investors in Hungary.
He pointed out that the Hungarian government offers great opportunities for investors, as well as strong support for Turkish companies.
He explained that economic cooperation between Turkey and Hungary also continues in projects on the African continent, especially in the field of health.
Çavuşoğlu thanked his Hungarian counterpart for his support for Ankara's relations with the European Union, stressing that Turkey, led by President Recep Tayyip Erdogan, will continue efforts to end the war in Ukraine.
On February 24, 2022, Russia launched a military operation in Ukraine, and to end it, requires Kyiv to abandon plans to join military entities, which the latter considers as an "interference" in its sovereignty.