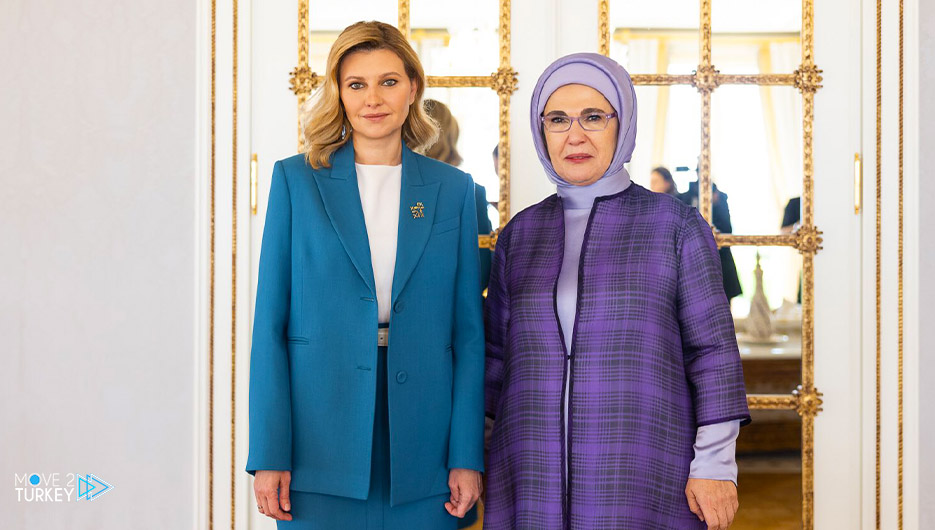 Turkey's First Lady Emine Erdoğan on Sunday hosted her Ukrainian counterpart Olena Zelenska at Vahideddin Palace in Istanbul.
The wife of the Turkish president, in a tweet via "Twitter", expressed her happiness over hosting her Ukrainian counterpart.
"I believe that together we will heal the wounds of the Ukrainian people, especially the women and children affected by the war," she said.
Since February 24, Russia has launched a military attack in its neighbor Ukraine, prompting capitals in the forefront of which is Washington to impose severe economic sanctions on Moscow.
Erdogan stressed that Turkey, as it was from the beginning, will continue its diplomatic struggle in every field in order to establish peace.
She also thanked Zelenska for signing the letter of goodwill relating to the Zero Waste project.
The "Zero Waste" project is based on changing the consumption habits of citizens, separating the waste from the source and then recycling it, with the aim of reaching the waste recycling rate to 60 percent by 2030.
The project saved 397 million tons of raw materials, 315 million kilowatt-hours of energy, 345 million cubic meters of water and 50 million barrels of oil between 2017-2020.
In turn, the first lady of Ukraine briefed her Turkish counterpart on the latest developments in her country, which is at war with Russia.
Zelenska handed Erdogan a letter of thanks from her husband, President Volodymyr Zelensky, for the support given to Ukraine.
She welcomed Turkey's hosting of 1,300 orphaned Ukrainian children and requested support to evacuate about 200 children with special needs and transfer them to Turkey.
"Turkish President Recep Tayyip Erdogan's strong leadership and diplomatic skill contributed to opening the grain corridor and ensuring the exchange of prisoners between Ukraine and Russia," she said.
She explained that the grain corridor – which was opened under the Istanbul agreement – saved the world from a major food crisis.
Zelenska also requested support from her Turkish counterpart in providing ambulances and incubators to Ukraine due to the increased health needs due to the war.
Last July 22, Istanbul witnessed the signing of the "Document on the Safe Shipping Initiative for Grain and Foodstuffs from Ukrainian Ports" between Turkey, Russia, Ukraine and the United Nations.
The agreement included securing exports of grain stuck in the Ukrainian ports on the Black Sea (Eastern Europe) to the world to address the global food shortage crisis, which threatens a humanitarian catastrophe.
Since February 24, Russia has launched a military attack in its neighbor Ukraine, which has damaged the food and energy sectors worldwide and prompted many capitals to impose economic, financial and diplomatic sanctions on Moscow.