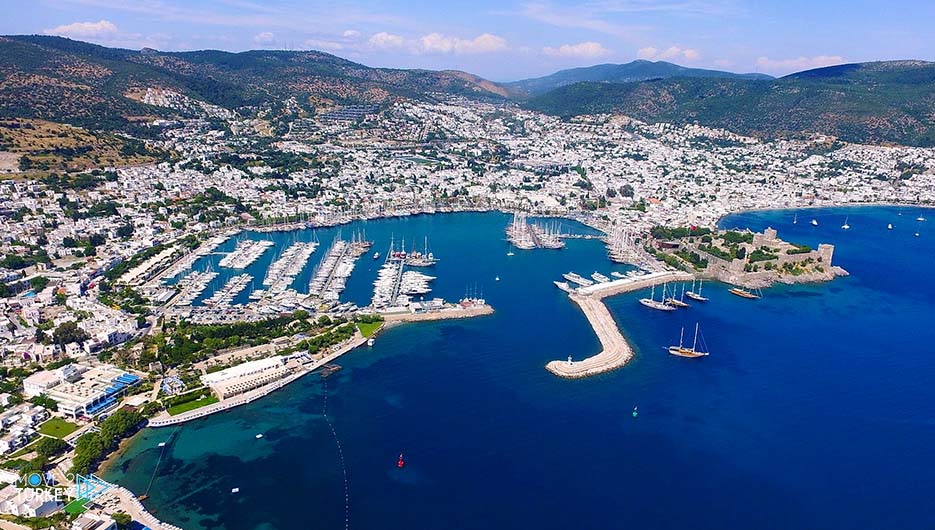 Have you ever wondered about the quality of life in Bodrum, Turkey? And how to live in the Turkish tourist cities in general?
Turkey is a popular country among tourists and foreigners who want to spend a fun vacation or buy a second home to stay in, it is a unique country with four seas across the country that has amazing natural beaches.
The country offers many features including a variety of fresh foods, different climatic conditions and a rich history
As Turkey is a multicultural country with many cultural differences, and its people live in perfect harmony despite this cultural difference. These features are among the most important reasons that make Turkey a suitable destination for foreigners.
Different cities in Turkey have different characteristics, in this article we want to introduce to you how it is to live in Bodrum in Turkey.
Bodrum is a port city and one of the countries of western Turkey on the Aegean Sea, for those who decided to live on the Turkish Aegean Sea, choosing Bodrum as a destination depends on their taste and lifestyle.
Bodrum consists of city center and beach resorts, offering a wide range of diverse environments.
Life in Bodrum
Bodrum Turkey is an urban area, the population of this city is about thirty-six thousand three hundred and seventeen people.
One of the most important features of this city, which played an important role in attracting tourists, is its very picturesque landscapes.
In addition to this topic, we can mention the ancient culture, the good climate, and all these issues made people from Europe and the Middle East decide to migrate to this city to continue their lives and work.
In general, it can be said that the atmosphere in this city has provided a pleasant condition for living in Bodrum. In addition to this topic, it can be said that the establishment of many festivals, shops, markets, cafes and restaurants also created a lively and good atmosphere for the entertainment of the residents.
Bodrum is a good place for people who are interested in high standards of living, as it contains a water area with a clean, safe and beautiful environment, as this city is the cradle of Turkish music, making this city a beautiful paradise for interest.
Bodrum has a variety of leisure and tourism destinations such as boating and water sports, and it is interesting to know that this city is one of the most immigration cities where people can get a suitable apartment or house at an affordable cost.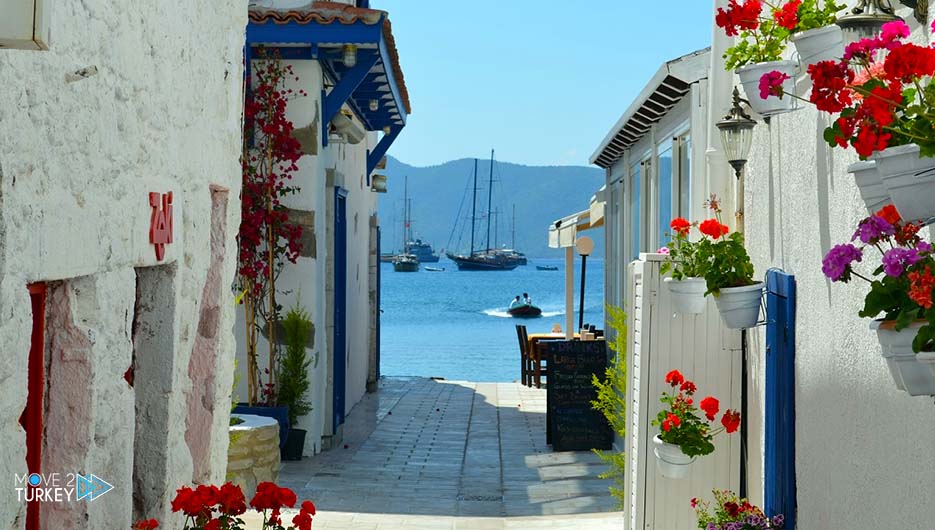 History of Bodrum, Turkey
Bodrum in Turkey is one of the ancient cities that dates back many years and you can see amazing monuments, things like tombs that are 140 feet high which are kind of evidence of these ancient times.
There are works and sculptures of many ancient Greek artists in this city, which has been gradually destroyed by earthquakes.
Weather in Bodrum
The city of Bodrum in Turkey has a Mediterranean climate, which means that the weather in the city is moderate and good throughout the year.
In general, it can be said that the highest temperature in Bodrum in Turkey is related to summer days and is estimated at 34 degrees Celsius, and in winter the temperature changes to 15 degrees Celsius.
In addition to this issue, it can be noted that the average minimum temperature at night reaches 8 degrees Celsius in winter and 23 degrees Celsius in summer.
Given all these matters, it can be said with confidence that the good weather and the beautiful Turkish beach of Bodrum, in turn, are among the main reasons for attracting tourists as well as foreigners to live in Bodrum.
Education in Bodrum
In general, it can be said that the population of Turkey is young and for this reason, creating an educational and student environment in Bodrum is extremely important.
The Turkish government has been striving for some time to meet the educational needs of immigrants and residents.
Today, there are well-known private schools of very high quality in Bodrum, such as Marmara School, and it continues to operate, the distinguished school has around 750 students and is teaching and educating them.
Transportation in Bodrum
The issue of transportation is also an important criterion for choosing a place to live, for this reason it can be said that the bus system in Bodrum, Turkey is very regular and extensive, and yet it does not continue to operate until the last hours of the night.
In addition, it can be said that you can use the boats used in this area to travel to and from other cities in Turkey.
Bodrum does not have an airport and for air travel you can refer to the airport, which is located 40 km from this city. You can also use a taxi or private car to get to the airport, because unfortunately there are no buses or public transport to travel.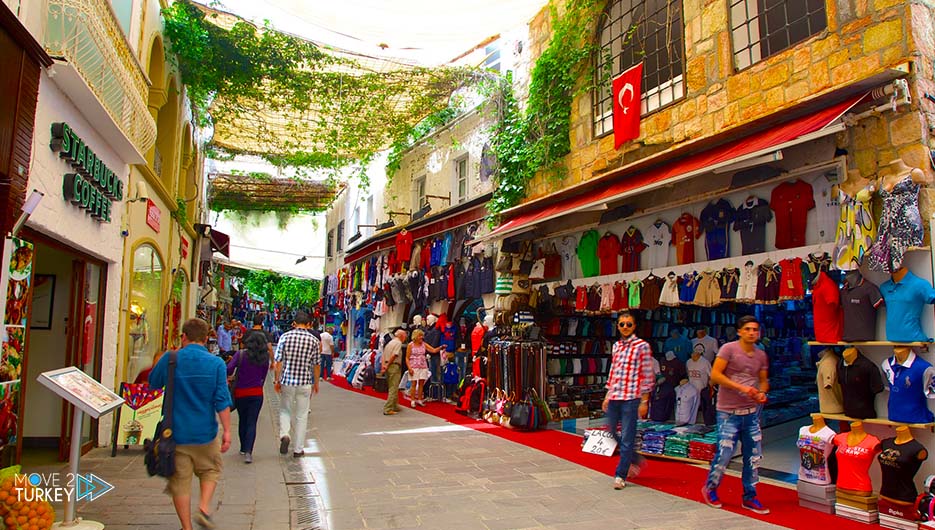 Economy of Bodrum City
In general, it can be said that in the eighteenth and nineteenth centuries, most activities in Bodrum were linked to fishing, although we can say that pearling and sponge fishing were also popular activities in this city.
Since the twentieth century, however, the economic activities of this region have turned into tourism, to the extent that today we are witnessing many hotels and restaurants that have made the tourism industry in this city flourish.
In addition, it can be added that teaching and work in various sectors of tourism, such as jobs known through employment agencies or newspapers and the Internet, are also available in this city.
Finally, it should be added that the income from jobs related to tourism will be good and very important, especially in the summer. And it would provide for a good source to live in Bodrum.
Choose the right area for you to live in Bodrum
Bodrum's undeniable charm and its tourist environment is very encouraging. Bodrum is an ideal place for both Turks and foreigners dreaming of a Turkish lifestyle with lots of sun, sand and cool summers.
If you want to live in Bodrum, you will find the life of your dreams. You just have to decide which neighborhood or village is best for you.
The fast pace of life in the main city center may not be a good option for some people who are looking for a quiet and peaceful place instead of going shopping and having a vibrant nightlife.
Modern people believe that Yalikavak is the best place to live in Bodrum, while people looking for a more traditional lifestyle feel comfortable in Göltürkbükü's Old Quarter.
Another important aspect to consider is the difference between winter and summer life.
Bodrum is one of the best tourist destinations in Turkey and its population doubles from May to October, so life is more active at this time.
Everyone who wants to live in Bodrum all year round should pay attention to this problem.
Best place to live in Bodrum:
1: Yalıkavak:
Yalikavak has grown from a small tourist town to the star of Turkish real estate and sailing scene, Palmarina is the jewel in Yalikavak's crown for the presence of international stars in it and its unique boats.
The past can still be seen in the old part of town, but Yalikavak's new face is the luxury of millions of mansions, and the area has many malls.
2: Gundogan:
Gundogan is not known as a major tourist attraction, but for decades it was one of the favorite places for Turkish holiday homes.
It has many hills, where there are olive and citrus trees, and it also has a wonderful view of the sea, which gives villa owners access to wonderful views, and Gundogan is an area with an ancient Turkish culture and the nightlife in this area is not very prosperous.
3: New and Old Göltürkbükü's:
Golturkbuku has gained popularity in recent years as an ideal alternative to Yalikavak.
This remote area brings peace and tranquility to the residents, but if they want to make a difference, they can reach large shopping centers and an active nightlife just a short drive from Yalikavak.
The old Golturkbuku Hotel is far from the coast, but due to its hillside location, most of the houses have a beautiful view of the Aegean Sea, in this area there are more architectural styles with stone carvings, the photos of which have been published in some pages of international home builders magazines.
By moving towards the beach, the architectural styles will change from the old to the new and the modern, and the houses will enjoy a wonderful view of the sea.
Best places in Bodrum for low budget property buyers
Kadikale
Although this neighborhood is quiet in winter, it has a neat sandy beach with plenty of space and cool breezes on summer days.
As a small village, residents do not have close access to supermarkets or an active nightlife, but residents prefer this lifestyle, if they want to go to a more crowded and larger neighborhood, it only takes a short trip to Yalikavak.
Turgutreis
This region is very popular with foreign immigrants and has become a great community with year-round livability.
Iasos
Another low-budget neighborhood for those looking for a vacation home, located on the coast near the airport.
Read More about living in Istanbul