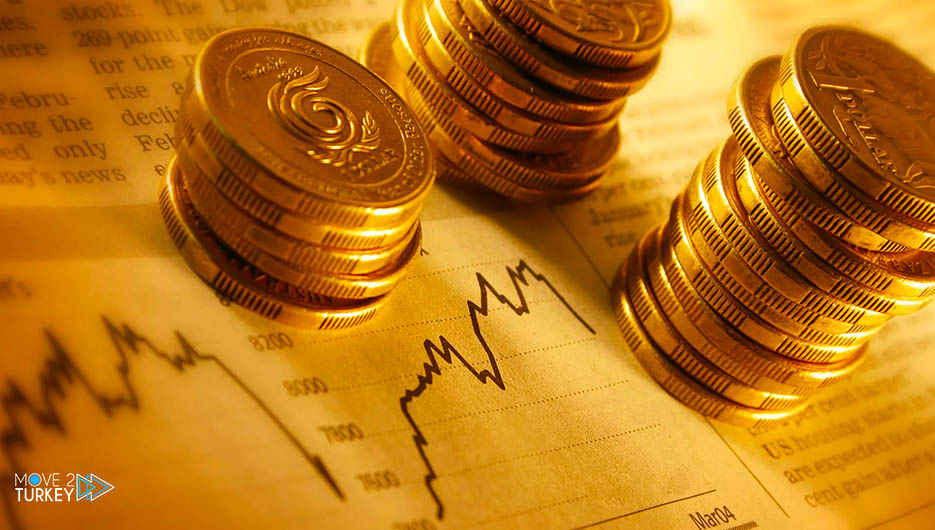 Gold prices fell on Friday, driven by the rise in the dollar and US bond yields, following the Federal Reserve's hints of an acceleration of interest rate hikes.
And by 9:05 (GMT), the yellow metal was trading in spot transactions at 1942.17 dollars an ounce, down 9.08 dollars, or 0.47 percent.
And US gold futures fell $5, or 0.25 percent, to $1,943.2 an ounce.
Gold prices are heading to record weekly losses of more than 2% for the first time in three weeks.
On Thursday, US Federal Reserve Chairman Jerome Powell said that the bank's expectations that inflation, which is currently more than four times the target rate of 2 percent, has been disappointed, and "it is appropriate to move a little faster, and (the rate hike) will be 50 basis points on the table for the May meeting. (May)".
The Federal Reserve is scheduled to hold its next meeting on May 2-3.
Analysts expect to raise US interest rates at least six times in 2022 and 2023, by 0.25-0.5 percentage points each time, to reach between 2.75 and 3 percent by the end of next year.
Powell's comments led to a rise in the dollar and the yield on US Treasury bonds, which put pressure on the precious metal.
Gold is used as a hedge against inflation, and its attractiveness decreases with the rise of the dollar, as the cost of its acquisition increases for holders of other currencies.
On Friday, the dollar index, which measures the performance of the US currency against a basket of six major competing currencies, rose 0.43 percent to 101.05 points.
And dollar contracts tend to record weekly gains of about one percent.