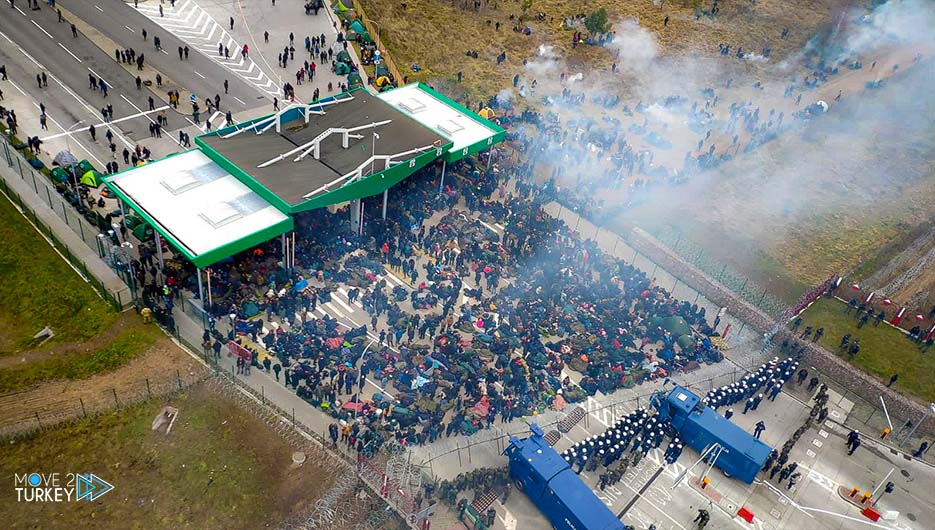 The European Union and the G7 foreign ministers on Thursday called on Belarus to put an "immediate" end to the migrant crisis on its border with Poland.
This came during a joint statement of the foreign ministers of the group and the High Representative for Foreign Affairs and Security Policy in the European Union Josep Borrell, which was published on the website of the British Foreign Office.
"We call on the Belarusian regime to immediately stop its aggressive and exploitative campaign (to coordinate irregular migration across its border with Poland) in order to avoid further deaths and suffering," the statement said.
"International organizations must be given immediate, unhindered access to provide humanitarian assistance (for migrants)," he added.
The group and the European Union also condemned what they called "the coordination of the Belarusian system of irregular migration across its borders with Poland, which puts people's lives at risk."
They expressed their "solidarity with Poland, Lithuania, and Latvia, which have been targeted by the provocative use of irregular migration (by the Belarusian regime)."
The statement considered that "the actions of the Belarusian regime are an attempt to divert attention from its continued disregard for international law and fundamental freedoms and human rights, including the rights of its people."
The ministers commended the measures taken by the European Union, which works closely with the countries of origin and transit of migrants, to put an end to the actions of the Belarus regime.
The Group of Seven confirmed that it would continue to work with the European Union "to hold those responsible to account and to support civil society and human rights in Belarus."
Britain currently holds the rotating presidency of the Group of Seven major industrialized countries, which also includes the United States, Italy, France, Germany, Japan, and Canada.
On November 8, several asylum seekers tried to cross the border into Poland via Belarus.
There are currently about 4,000 asylum seekers on the borders of the two countries, according to the Polish News Agency.
The European Union accuses Belarusian President Alexander Lukashenko of coordinating the arrival of this wave of migrants and refugees to the eastern side of the bloc.
This was in response to the European sanctions imposed on his country after the "brutal repression" his regime had exercised against the opposition.
According to the latest figures released by the European Union, 7,935 people have tried to enter the European Union through its border with Belarus so far this year.