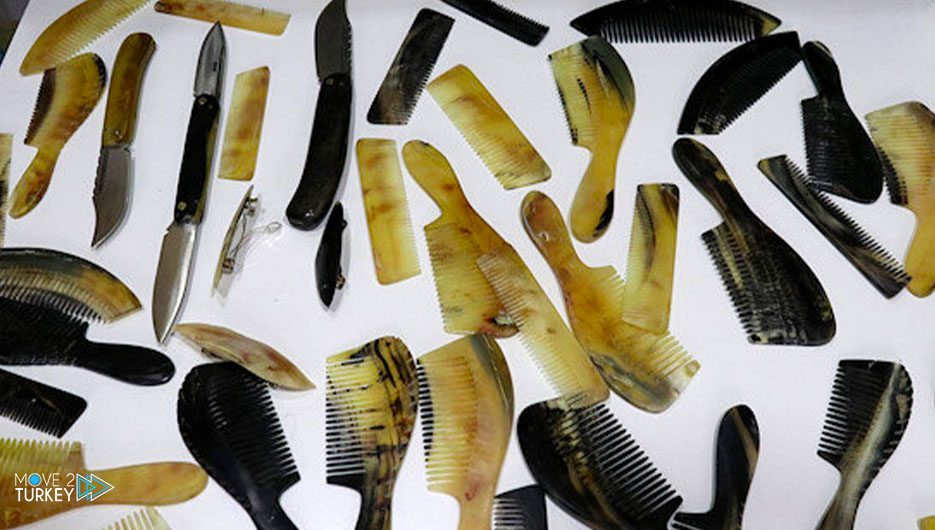 In a small workshop in the state of Sivas, in central Turkey, the craftsman "Fatih Dorna" clings to the profession of making combs from the horns of heritage animals that are resistant to extinction.
Dorna, 34, said that six years ago he started working in his brother's workshop, who makes knives, and learned there how to make combs from small and large cattle horns.
Dorna – a graduate of the Department of Turkish Language and Literature from the University of the Republic – pointed out that he opened a workshop in 2020 in a village before opening his workshop, in which he is currently working in the city center of Sivas.
He pointed out that he seeks to revive this profession with the support of the Directorate of Culture and Tourism, pointing out that there is no one else left to practice it in Sivas after the death of "Uncle Ihsan" some time ago.
He stated that he produces between 25 and 30 combs every day in his 30-square-meter workshop, and he faces difficulty in meeting the many requests that pour in on him from inside and outside the country.
He explained that he sends his products to several countries, including Switzerland, Germany, France and Indonesia, where he is very popular with Turkish expatriates in particular, and promotes them through social media.
Regarding the stages of making combs, he pointed out that after collecting the horns, they are left for 4 years to dry, after which they are cut and heat treated, then subjected to cutting and polishing processes in order to become soft to the touch and take the desired shape.