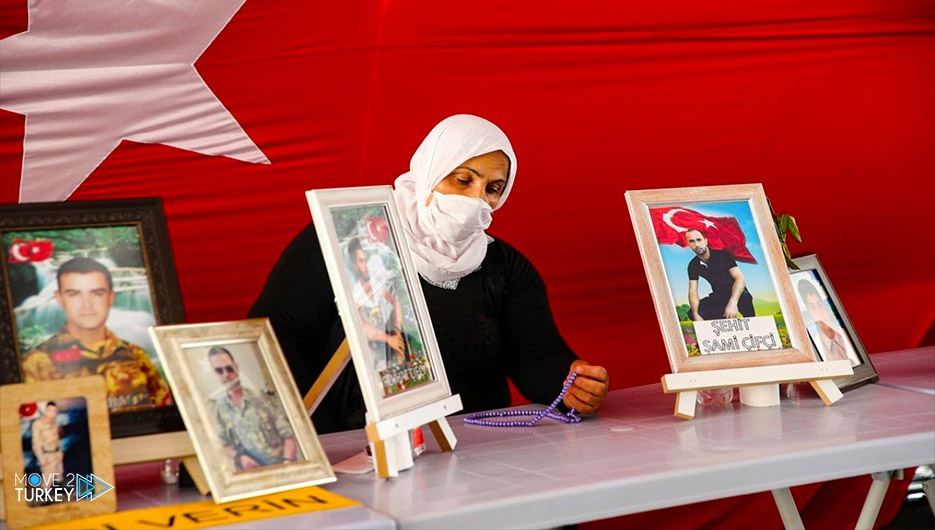 Mothers continue their sit-in in front of the headquarters of the Peoples' Democratic Party (HDP) in the Turkish state of Diyarbakir for the 701st day, to demand the return of their children kidnapped by the PKK terrorist organization.
The mothers accuse the HDP of being involved in deceiving and kidnapping young people and sending them to fight in the ranks of the terrorist organization.
In her speech, Mrs. Zakia Bozdag confirmed that she will continue her sit-in until the return of her brother, who has been kidnapped since August 30, 2019, and all the abductees.
Bozdag blamed the HDP for her brother's disappearance, accusing the party of kidnapping him and sending him to fight in the ranks of the PKK terrorist organization.
For his part, Father Nuruddin Udomlu confirmed that he had not received any news about his son Yusuf for 8 years.
He continued: "Last week, 3 of our friends' sons returned, which gave us hope. We want our sons from the Peoples' Democratic Party."
The sit-in of mothers began on September 3, 2019, and President Recep Tayyip Erdogan expressed his support for them on more than one occasion.
As well as supporting ministers, politicians, artists, journalists, writers, athletes, civic organizations, clergymen and all segments of society.
The sit-in is also supported by the "Srebrenica Mothers' Association" in Bosnia and Herzegovina, European Parliament Member Tomas Zdechovsky, and ambassadors in Ankara who visited Diyarbakir and met the sit-in.