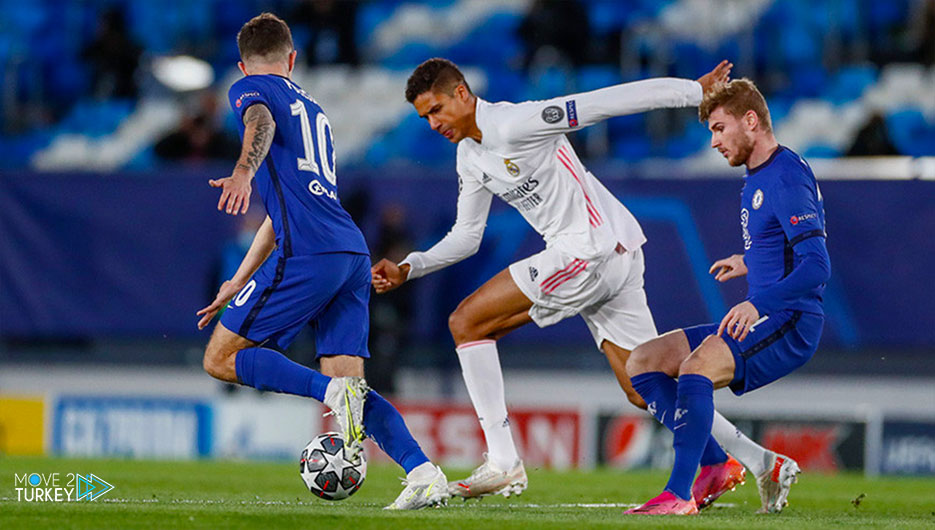 The English club Chelsea imposed the result of a positive tie with a goal to match Real Madrid on Tuesday, in the first leg of the Champions League semi-final.
Real also began the meeting, cautiously trying to feel the pulse of the opponent, who revealed early on his offensive intentions through several attempts, and posed a great danger to Thibaut Courtois' goal.
Chelsea would have opened the scoring early, had it not been for the frivolity shown by striker Timo Werner in a ball he received in front of the goal, and his shot was weak in Courtois' feet.
And Werner's opportunity was only a warning of what was to come, as the London team imposed its style and pressed hard.
Until the American Christian Pulisic scored in the 14th minute, with a ball dodging the goalkeeper, then he fired brilliantly in the empty goal.
The owners of the land waited until the 23rd minute to register their first presence with a ball fired by Frenchman Karim Benzema from a distance not close, the left post's response to goalkeeper Edward Mandy.
As usual in recent seasons, Benzema took it upon himself to save the Real, and was able to restore his team to the atmosphere of the match.
And this by scoring the equalizing goal in the 29th minute from a ball that he prepared brilliantly among the defenders, and then shot it with a powerful net.
The remaining minutes of the first half saw some mutual opportunities from the two teams, but without one of them posing any significant danger to the other's goal.
The second half kicked off with clear control of the "Blues", who had possession of the ball by 55 percent.
The most dangerous party was amid the weak presence of the Real Madrid elements in the Chelsea regions.
Chelsea remained the preference until the last minutes of the match, which witnessed some attempts by Real in the hope of snatching a deadly goal.
But the result remained the same, with the referee blowing the final whistle.
Whereas, the result of the tie between the two teams will open all possibilities in the return leg, which will be held next week at "Stamford Bridge" in London.