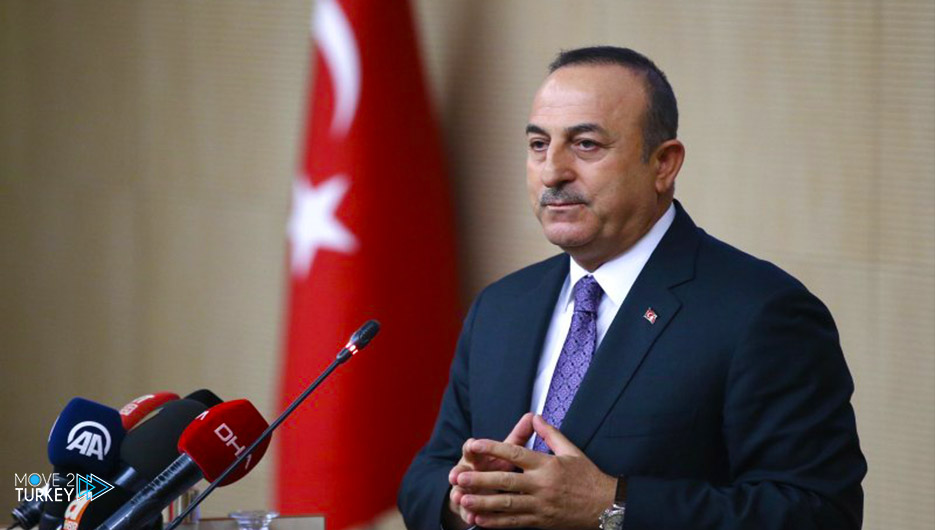 On Tuesday, Turkish Foreign Minister Mevlüt Çavuşoğlu called for support to the Lebanese government in order to find solutions to the crises facing the country.
Çavuşoğlu said during a joint press conference with his Lebanese counterpart Abdullah Bou Habib in Beirut.
Turkey and Lebanon share a common geography and destiny, as well as deep-rooted historical, cultural, and human relations.
He stressed that Turkey attaches permanent importance to Lebanon's sovereignty, security, stability, and prosperity, pointing to the necessary support and solidarity provided by Ankara after the explosions in the port of Beirut and Akkar.
He said, "Everyone should provide support to the Lebanese government in order to find solutions to the crises facing the country and to organize general elections as soon as possible."
He added, "The Lebanese people are waiting for an urgent solution to their problems, and they must not pay the price of regional compromises."
Çavuşoğlu recalled his country's support for the Lebanese army and security forces for security and stability, noting that Turkey extended its contribution to the United Nations Interim Force in Lebanon (UNIFIL) for another year.
He expressed Ankara's desire to develop relations with Lebanon, noting that he discussed with his Lebanese counterpart ways to strengthen relations in various fields, especially tourism, energy, and agriculture.
Commenting on the crisis between Lebanon and the Gulf, Çavuşoğlu said: "We hope to solve this problem as soon as possible.
And this through diplomacy and dialogue on the basis of mutual respect, we are ready to play the role that falls upon us."
In turn, the Lebanese Foreign Minister said that his country is keen on better relations with Turkey, expressing his aspiration to provide facilities to open Turkish markets to Lebanese products.
Bou Habib said, "Lebanon and Turkey host, in addition to Jordan and Iraq, the largest number of displaced Syrians.
Therefore, it is in their interest to unite efforts and call on the international community to assume its responsibilities for a just distribution of burdens and to work for the safe return of the displaced."
The number of Syrian refugees residing in Lebanon is about 1.5 million, of whom about 900,000 are registered with the United Nations High Commissioner for Refugees, and most of them suffer from difficult living conditions.
On Monday, Çavuşoğlu arrived in Beirut for an official visit that will last several days.
During which he met with President Michel Aoun, Parliament Speaker Nabih Berri, and Economy Minister Amin Salam, and is scheduled to meet with Prime Minister Najib Mikati.