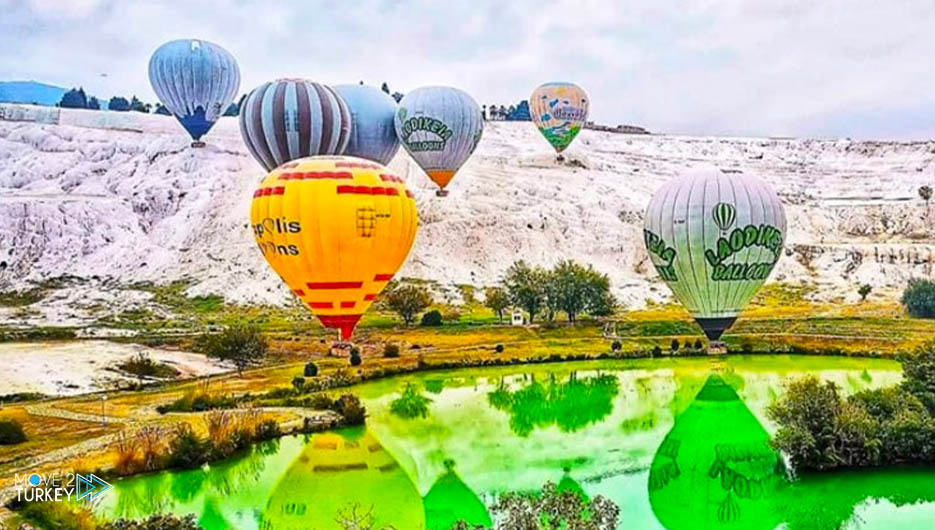 Hot air balloons are an important part of tourism in the Pamukkale region, which is described as the "white paradise" and is famous for its white limestone rocks, thermal springs and monuments.
Pamukkale in the southwestern state of Denizli got acquainted with hot air balloon flights for the first time in 2012 through experimental tours, and a year later it launched the first regular commercial flight in the region.
With the increase in demand for these balloons, daily tours increased to 40, operated by 19 companies.
Hot air balloons take off with their passengers in the early hours of the morning almost every day, with the exception of windy and stormy days. Between 500 and 750 visitors per day witness the sunrise in Pamukkale with hot air balloon rides.
Abdullah Kaya, head of the Turkish Aviation Association, said that the first World Air Games in Cappadocia (center) in 1997 was a turning point in tourism, especially those related to hot air balloon tours in the country.
Kaya stressed that the hot air balloon contributed greatly to the development of tourism and the introduction of the natural beauty of the Pamukkale region.
He explained that the Turkish Aviation Association conducted research on the possibility of taking off hot air balloons in Pamukkale and whether the weather conditions are suitable for such tours.
He added that the test flights began in the region in 2012 and then were officially launched in 2013.
Pamukkale is one of the most famous tourist sites in Turkey and is included in the UNESCO list of World Heritage Sites.
The area is famous for its white limestone rocks that resemble cotton, from which comes the name of the area, meaning the Cotton Castle, and tourists enjoy the beauty of its nature and watch its ancient cities.
The archaeological sites in Pamukkale are among the most visited archaeological sites in Turkey, and the area is described as a "white paradise".