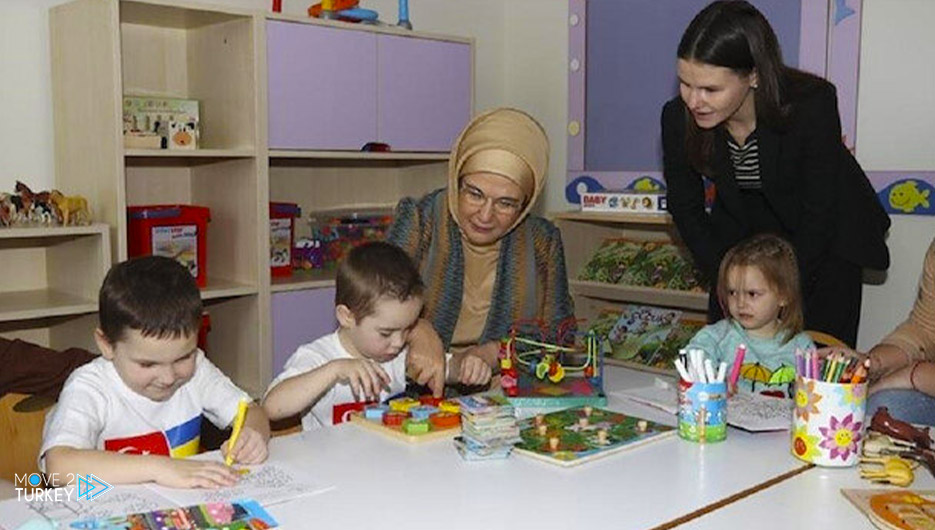 On Thursday, Emine Erdogan, the wife of the Turkish president, visited orphaned children who were evacuated from Ukraine in a children's home in the capital, Ankara.
Erdogan was accompanied on her visit by the Minister of Family and Social Services, Derya Yang.
During the visit, the wife of the Turkish president received information about the process of rehabilitating the children from their caregivers.
Erdogan stressed that the children who were evacuated from Ukraine to Turkey were "in safe hands."
She added, "Our hearts hope that no one will be left without a mother or father, and that no one will abandon their homeland. I hope that the war will end as soon as possible, that the wounds there will heal, and that everyone will be able to return to their homes safely."
She pointed to the possibility of continuing the process of evacuating children in difficult conditions in Ukraine, indicating that Turkey is always ready to extend a helping hand.
Last Thursday, Turkey received 34 orphaned children from Ukraine, in a first step for the agreed evacuation between Amina Erdogan, the wife of the Turkish president, and her Ukrainian counterpart, Olena Zelensky.
The evacuation of orphaned children from Ukraine to Turkey came as a result of the agreement between Erdogan and Zelensky in Istanbul on October 2.
Erdogan and Zelensky met on October 2 at Wahideddin Palace and discussed the situation of women and children who were victims of the Russian-Ukrainian war.
The orphaned children were brought from the "Sonyshko" home in the Ukrainian city of Odessa to the Turkish capital, Ankara, where rehabilitation operations began following medical examinations.