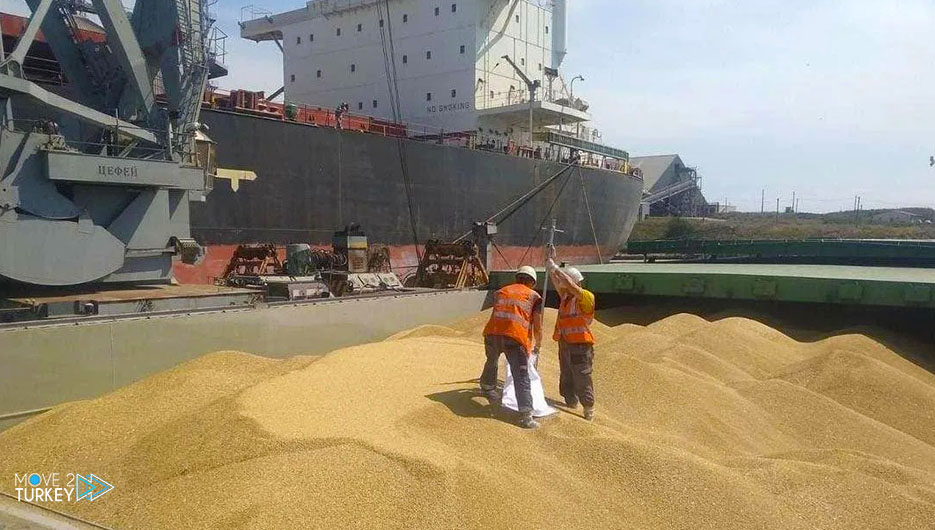 The quantity of grain sent from Ukrainian ports has exceeded 10,315,000 tons since the conclusion of the Istanbul Agreement.
This came in a statement issued by the Turkish Ministry of Defense on Saturday, indicating that President Recep Tayyip Erdogan announced on November 2 the resumption of the Ukrainian grain shipment agreement.
She added that since November 2, 51 cargo ships have docked in Ukrainian ports, while 21 have left.
She explained that the total quantity of grain shipped within the framework of the agreement to date amounted to 10,315,000 tons.
A few days ago, the Russian Defense Ministry announced its return to the Ukrainian grain export agreement, after Moscow suspended its participation in it for several days, due to an attack on its fleet in the Black Sea.
The ministry said in a statement that Moscow resumed its participation in the Ukrainian grain export agreement after "receiving written guarantees from Ukraine on the demilitarization of the corridor used for its transit."
The Russian position came in the wake of the Turkish President's announcement earlier to reopen the grain shipment corridor from Ukrainian ports as before, days after Russia suspended the agreement.
Last July 22, Istanbul witnessed the signing of the "Document on the Safe Shipping Initiative for Grain and Foodstuffs from Ukrainian Ports" between Turkey, Russia, Ukraine and the United Nations.
The agreement included securing exports of grain stuck in the Ukrainian ports on the Black Sea (Eastern Europe) to the world to address the global food shortage crisis, which threatens a humanitarian catastrophe.