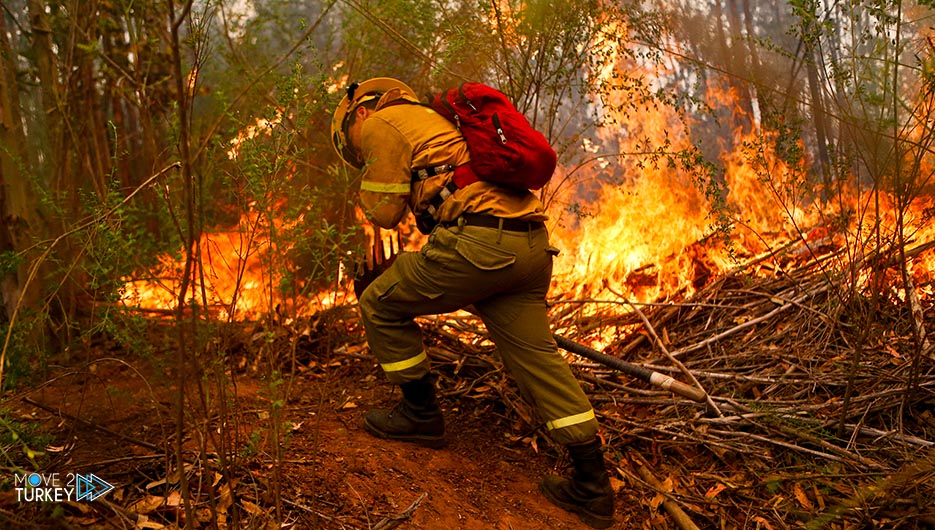 On Tuesday, the Algerian authorities announced the death of 7 people as a result of the fires that broke out in several regions of the country.
Meanwhile, Interior Minister Kamal Beljoud considered them "criminal and sabotage acts."
The Civil Protection (Defence) Department said in a statement that among the deaths were 6 in the state of "Tizi Ouzou" (east) and one in the city of Setif (east).
The statement added that "36 fires were recorded across 18 governorates, including 19 fires in Tizi Ouzou, and two fires in Khenchela.
In addition, 4 fires in Jijel (east), and 4 fires in the governorates of Setif, Bejaia, Medea (central), Tiaret (west), and others.
The Minister of the Interior commented on the fires, saying, "It is a business."
subversive crime.
Beljoud added, during his visit to the state of Tizi Ouzou, in the Kabylie region, that "what indicates that the fires were caused by a criminal sabotage is their coincidence, as more than 50 fires were recorded simultaneously."
He pointed out that the security services "initiated investigations to uncover those involved in these fires."
Beljoud continued, "Specialists will be sent to assess the damages on the ground," noting that the recorded losses "will be covered by the state," about compensation for those affected.
For days, several Algerian states have witnessed the outbreak of massive fires, which were exacerbated by a severe heatwave and hot and strong southern winds.