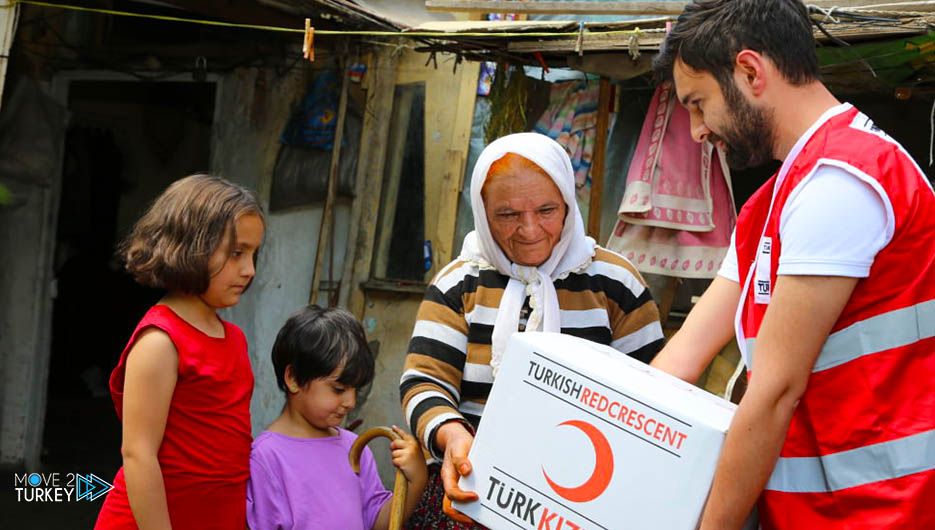 On Saturday, the Turkish Red Crescent Society distributed 700 Ramadan Iftar meals to displaced Yemenis in the Saudi Agricultural Institute camp in Aden Governorate (south).
The head of the Turkish Crescent mission Ibrahim Obaid said that the association "today distributed 700 Iftar meals to the displaced in the camp of the Saudi Agricultural Institute in the Al-Luhoum neighborhood in the Saad district, north of Aden."
And on Friday, the association distributed 320 breakfast meals to displaced people and people with special needs in Al-Salam camp, north of Aden, according to the same source.
He pointed out that the process of distributing food baskets and breakfast meals will continue until the completion of the campaign project, which includes distributing 5,000 food baskets in 6 Yemeni governorates, and 3,500 baskets to displaced and disabled people in Aden.
He added that this was "within the project of distributing 3,500 Iftar meals to the camps of the displaced and people with special needs in Aden."
Since the outbreak of the fighting in Yemen, the Turkish Society has been providing various aids to the displaced and those affected by the war.
As well as helping the poorest families in a number of governorates.
Yemen has been witnessing for more than 7 years a continuous war between forces loyal to the government backed by an Arab military coalition led by the neighboring Saudi Arabia.
As well as the Iranian-backed Houthis, who have controlled several governorates, including the capital, Sanaa, since September 2014.