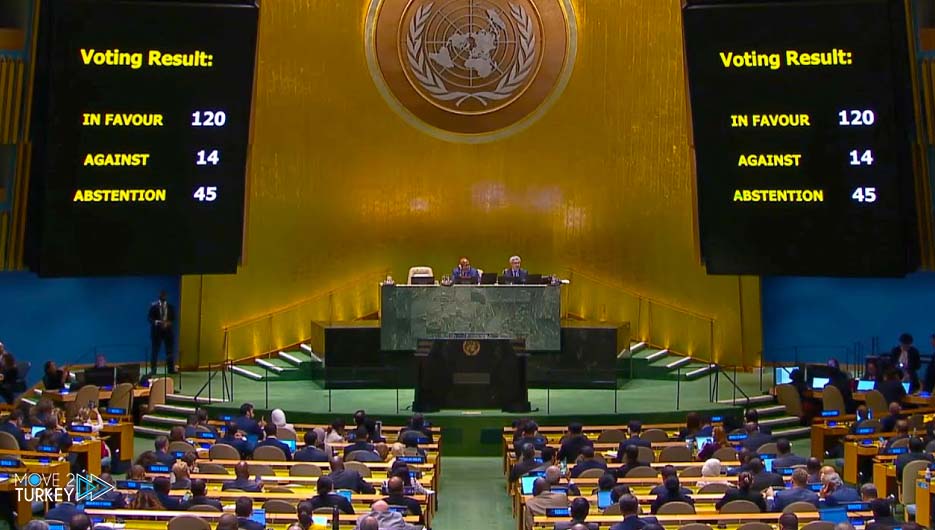 The Turkish Ministry of Foreign Affairs welcomed the adoption by the United Nations General Assembly of a draft resolution calling for an immediate humanitarian truce in Gaza, and called for the implementation of the calls contained therein, although it is not sufficient.
This came in a statement issued by the ministry on Saturday regarding the draft resolution adopted by the United Nations General Assembly in an emergency session on Friday.
The Foreign Ministry said: "We welcome the adoption of the draft resolution entitled (Protecting Civilians and Fulfilling Legal and Humanitarian Obligations), which was presented at the tenth emergency special session of the United Nations General Assembly with widespread support."
It noted the importance of the calls contained in the text of the resolution for an immediate, permanent and sustainable humanitarian ceasefire and to ensure safe and complete humanitarian access to food and basic services without interruption.
It added: Although we do not find this General Assembly resolution sufficient, which expresses the feelings of the majority of the international community in an environment in which the United Nations Security Council remains silent and ineffective in the face of the brutal attacks targeting the Palestinian people in Gaza, we hope that the calls contained in it will be implemented. text quickly.
On Friday, the United Nations General Assembly approved a resolution calling for an immediate "permanent and sustainable humanitarian truce" in the Gaza Strip.
The draft resolution, which was submitted by nearly 50 countries, including Turkey, Palestine, Egypt, Jordan, Saudi Arabia, and the UAE, was approved by a majority of 120 votes against, 14 against, with 45 countries abstaining from voting.
On the night of Friday and Saturday, Gaza witnessed a bombardment from several axes, the "heaviest" since October 7, causing the "total destruction of hundreds of buildings," coinciding with a limited ground incursion for the third day in a row, completely cutting off communications and the Internet from the Strip and isolating it from the outside world.
For 22 days, Israel launched a military operation in the Gaza Strip, which it called "Iron Swords," which destroyed entire neighborhoods and left 7,703 martyrs, including 3,195 children and 1,863 women, in addition to 19,743 who sustained various injuries.
During the same period, the Hamas movement killed more than 1,400 Israelis and wounded 5,132, according to the Israeli Ministry of Health. It also captured more than 220 Israelis, including high-ranking military personnel, and wants to exchange them for more than 6,000 Palestinian prisoners, including children and women.