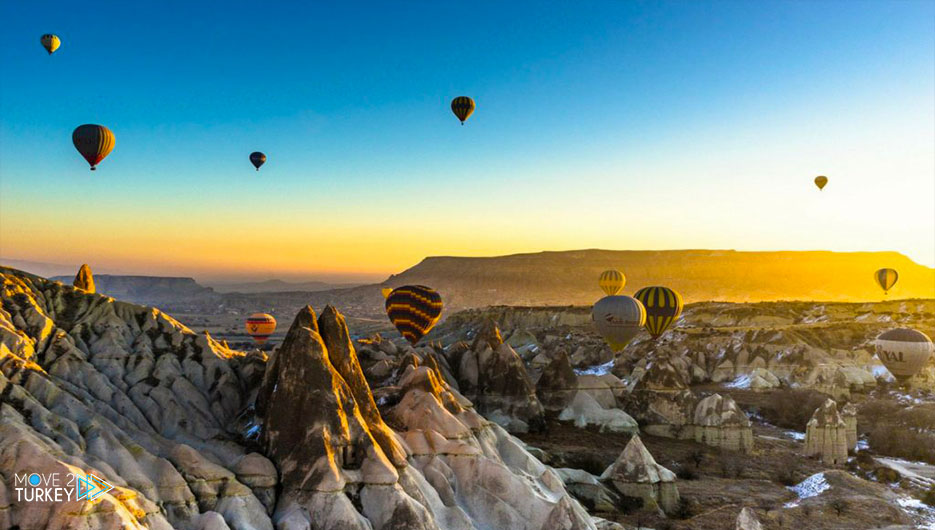 Tourists climb the hills in the archaeological region of Cappadocia in Turkey to watch the balloons fly in the early hours of the day.
Cappadocia is located in the central state of Nosehir, as this archaeological area is on the UNESCO World Heritage List.
Tour companies usually organize balloon trips in Cappadocia in the early hours of the morning, due to the calm air movement, which provides a comfortable and safe flight for balloon passengers.
For this reason, tourists and visitors get up early before the sun rises.
And they climb to the high hills in the area to watch the scenes of the balloons flying with the dawn of the first rays of the day in a beautiful sight that gives pleasure to the hearts.
In his speech, Osman Unlu, an official in a tourism company in the region, said that Cappadocia witnesses heavy traffic in the morning hours to transport tourists and visitors to the balloon flight site.
He added that the atmosphere in Cappadocia at this time is interesting and exciting, pointing to the organization of flights with 180 balloons in one day.
Unlu called on all tourists and visitors to visit Cappadocia and enjoy the beautiful scenes and enjoy balloon tours for those who have not yet visited this archaeological area.
In turn, the visitor, Sevda Kicioglu, said that she woke up before the sun rose to witness the beautiful scene of balloons flying in the sky.
She confirmed her desire to take a sufficient number of beautiful pictures of the balloons.
Cappadocia is famous for its underground cities, and the chimneys of the jinn or the so-called "devil tables", which were formed as a result of the factors of sculpture and erosion.
The region is one of the most important tourist centers and destinations in Turkey, and hosts many hotels, in addition to the lodges formed in the hollows of the rocks and inside the caves.
A visitor to Cappadocia can wander between the chimneys and "devil's tables" on the backs of camels and horses.
Or using 4-wheeled motorbikes, or on foot, as well as organizing balloon rides.