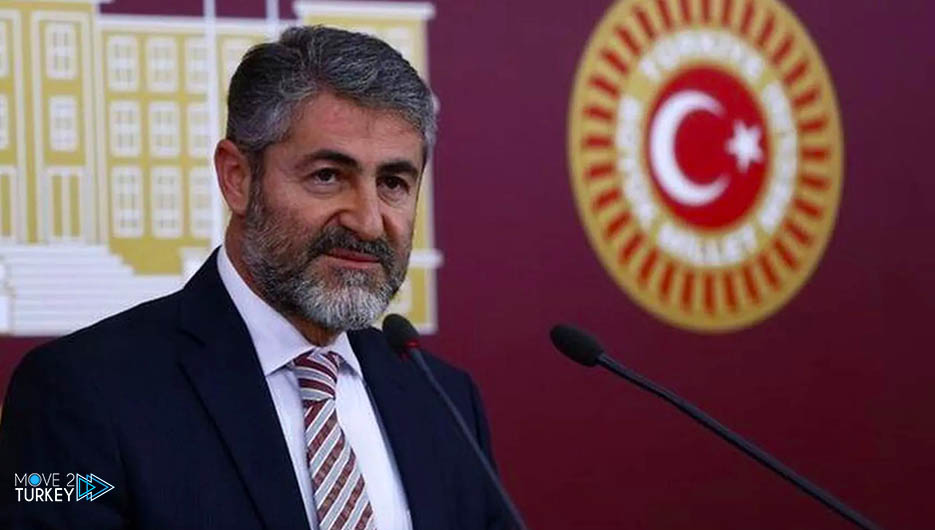 Turkish Minister of Treasury and Finance Noureddine Nabatai stated that the protected deposit system launched by Ankara at the end of last year contributed greatly to strengthening financial stability in the country.
Nabati explained that the financial system announced by President Recep Tayyip Erdogan on December 20, 2021, at a time when regional and global difficulties increased, contributed to strengthening financial stability, reducing demand for foreign currencies, and extending the terms of deposits in Turkish lira.
He added that the protected deposit also had a positive impact on the overall economic budget and played an important role in the growth of the national economy.
The "Turkish Lira Deposit Protected from Exchange Rate Fluctuations" is a financial mechanism launched by Turkey in late 2021, as it guarantees that the depositor in lira will not fall victim to fluctuations in exchange rates and obtain the declared interest, in addition to the difference in the price of the dollar between the times of deposit and withdrawal.
The minister stated that at a time when the world is being dragged into recession due to high inflation rates, interest rates and exchange rates, the protected deposit contributes to overcoming the economic recession, increasing employment and continuing to combat inflation.
He pointed out that the positive results of the economic model based on investment, production, employment, export and growth were not only evident in the decline in inflation, but also in the growth data.
Nabati added, "Our exports break records every month, and Turkey's share in world trade volume exceeds 1 percent."
And he added, "Our productive sectors, such as industry and tourism, which create foreign exchange, have become stronger than ever before in the history of the Republic."
He stressed that with the contribution of the Turkish economic model, the country will be one of the leading global financial, industrial and commercial centers in line with the vision of the "Century of Turkey".
On October 28, President Recep Tayyip Erdogan revealed the vision of the "Century of Turkey" for his Justice and Development Party, related to the programs and goals of the Republic in its new centenary.