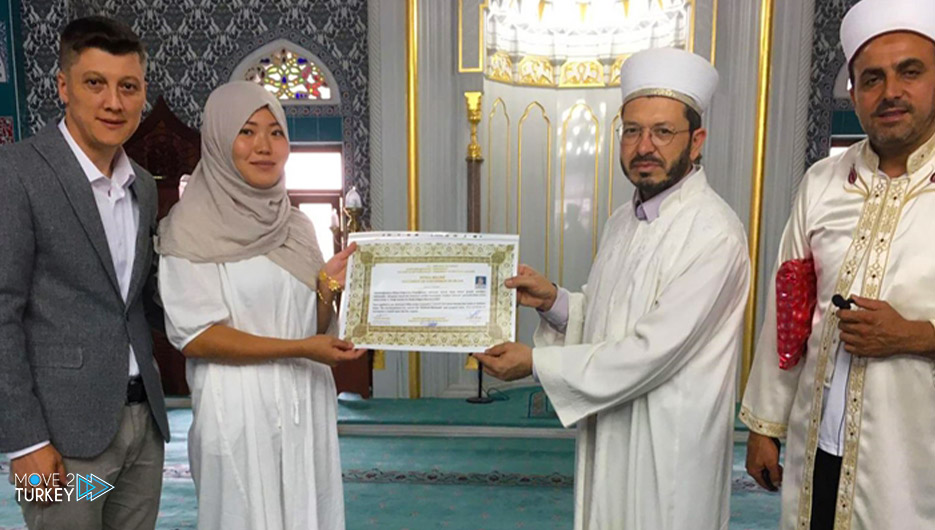 A Japanese woman converted to Islam in the Turkish state of Kutahya (west) on Thursday, after she was affected by the prayers and worship of her Turkish husband.
A ceremony was held in the Central Mosque in Kutahya, the conversion to Islam of the Japanese "Chisato" (32 years), in the presence of her husband, Oytun Turkman, and the deputy of the Ifta House in Kutahya, Faizullah Kojok Chagar.
The ceremony began with the recitation of verses from the Holy Quran, then Chisato Turkman pronounced the two testimonies in front of the attendees to declare her Islam.
Chisato explained that she changed her name to "Jinan" and then was given a document and a copy of the Holy Qur'an translated into Japanese at the end of the ceremony.
Husband Oytun Turkman confirmed that he did not force his Japanese wife to convert to Islam, and that was of her own free will.
He explained that he met his wife in Japan when he went to this country with the intention of working, and that they married her in 2017.
He added that they had a daughter when she was four years old. He said, "My wife was greatly influenced by the prayers and worship that I and the relatives around us perform, and then I started researching Islam to get to know it more and more."
He confirmed that he had obtained a Japanese translation of the Holy Qur'an for his wife, "Jinan", and that this increased her passion and attachment to Islam, and after a while she told him that she wanted to convert to Islam.