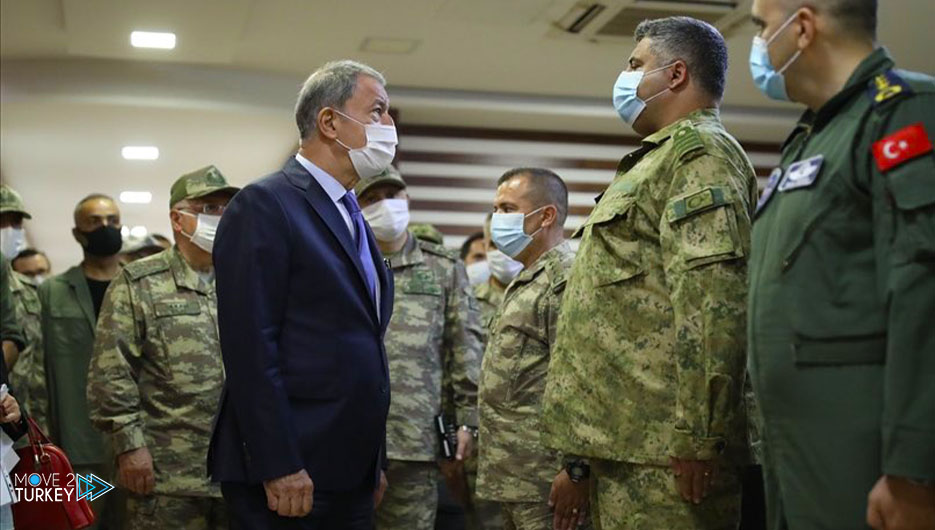 Turkish Defense Minister Hulusi Akar on Monday met his Bosnian counterpart Sevit Pudzic as part of an official visit to the Bosnian capital of Sarajevo.
Akar and Budzic also held a joint press conference after their meeting at the headquarters of the Bosnian Ministry of Defense.
During his speech, Akar stressed that the separatist discourse in Bosnia and Herzegovina is not in the interest of any party, noting that Turkey is closely following developments in Sarajevo.
Akar called on the concerned parties to be wise and think carefully, pointing out that Ankara sees "the Bosnian people in its unified form."
He explained that Turkey has close relations with Bosnia Herzegovina, and is keen on its safety from all harm.
Two weeks ago, Bosnian Serb deputies began withdrawing from the central institutions in Bosnia and Herzegovina, despite the West's warnings against this step.
The Bosnian Serb parliament passed a vote obligating the local government to withdraw from three core joint institutions – the army, the judiciary, and taxation – in the next six months.
Akar expressed his country's support for Bosnia and Herzegovina's relations and its integration with the Euro-Atlantic institutions and the North Atlantic Treaty Organization (NATO), noting that his meeting with Bodzic was very constructive and sincere.
In turn, Bodzic expressed his thanks to the Turkish Defense Minister for accepting the invitation and making a visit to his country and stated that Turkey, besides being a member of NATO, is a friendly country to Bosnia and Herzegovina.
The Bosnian minister indicated that the strong relationship between the defense ministries of the two countries dates back to the financial cooperation agreement in military fields signed in 2006, pointing out that Turkey has always provided aid to the Bosnian Ministry of Defense.