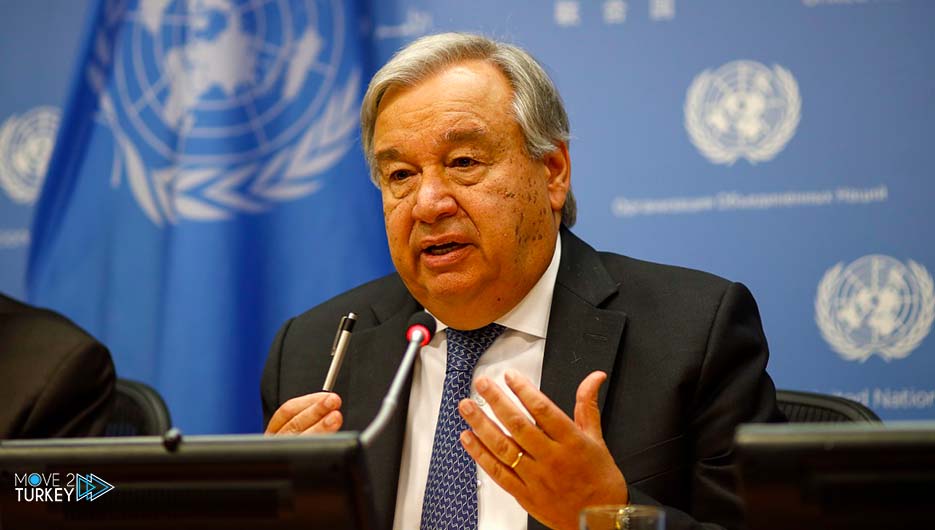 United Nations Secretary-General António Guterres expressed his horror at the attack on ambulances outside Al-Shifa Hospital in Gaza, saying that "the images of bodies scattered in the street outside the hospital are horrific."
In a press statement issued on Friday/Saturday night, Guterres said, "Civilians in Gaza, including children and women, have been besieged for nearly a month, deprived of aid, killed, and bombed."
He added: "The humanitarian situation in Gaza is horrific. Not enough food, water, and medicine is reaching the Strip to meet people's needs. The fuel needed to operate hospitals and water stations is running out."
He stressed that "the number of displaced people in UNRWA shelters exceeds the capacity of those shelters by nearly four times, while they are being bombed."
He added: "The morgues are overflowing, the shops are empty, and the state of sanitation is miserable. We are witnessing an increase in the spread of diseases and respiratory infections, especially among children. The entire population is in shock. There is no safe place."
Guterres renewed his previous calls for a ceasefire for humanitarian reasons, stressing the need to allow the entry of basic supplies and services and the unhindered access of humanitarian aid into and around Gaza in a safe manner and on a scale commensurate with this tragic situation.
He called on "all influential people to exercise their influence to ensure respect for the rules of war, end the suffering, and avoid the extension of the conflict that may spread to the entire region."
The Israeli army previously announced on Friday that it had targeted an ambulance in the Gaza Strip, claiming that it had monitored its use by the Hamas movement.
Ministry of Health spokesman Ashraf Al-Qudra said in a press conference: "The occupation targeted two ambulances, the first at Ansar Roundabout (west of Gaza City) and the second in front of the Shifa Complex in the city, which led to the death of 15 martyrs and 60 wounded."
For 28 days, the Israeli army has continued a "destructive war" on Gaza, in which 9,227 Palestinians were killed, including 3,826 children and 2,405 women, and 23,516 were injured. 145 Palestinians were killed and about 2,070 were arrested in the West Bank, according to official Palestinian sources.
While Hamas killed more than 1,538 Israelis and wounded 5,431, according to official Israeli sources, it also captured at least 242 Israelis and wants to exchange them for more than 6,000 Palestinian prisoners, including children and women, in Israeli prisons.