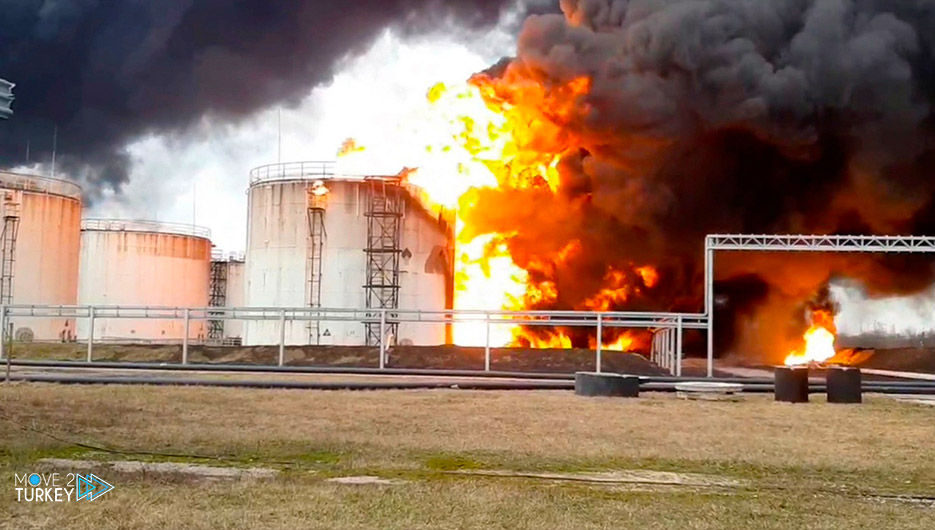 On Friday, Kyiv denied responsibility for the attack on an oil facility in the Russian city of Belgorod, in which Moscow had previously accused Ukraine of being involved.
Oleksiy Danilov, Secretary of Ukraine's National Security Council, told state television that Kyiv was "not responsible" for the attack.
He added, "For some reason they say we did it, but in fact this does not correspond to reality," according to the Associated Press.
Earlier in the day, presidential advisor Oleksiy Aristovich commented on the Russian accusations, saying:
"We are conducting defensive operations on our territory, and the Russian authorities are responsible for everything that happens on their territory."
"The Russian authorities should know what's going on in Belgorod, maybe someone smoked in the wrong place," he added.
Perhaps there is something else, perhaps the Russian forces are violating orders and do not want to enter Ukrainian territory by the means at hand."
Russia accused Ukraine of targeting an oil facility within the Russian border in the city of Belgorod at dawn on Friday, according to the regional governor of the region, Vyacheslav Gladkov.
"A fire broke out in a fuel tank due to an air strike by two Ukrainian military helicopters that entered the Russian region at low altitude," Gladkov wrote on Telegram.
He added that the fire caused by the bombing injured two workers, and that some areas were evacuated in the city near the Ukrainian border.
In this context, the Belgorod Mayor's Office said that more than 300 firefighters were able to put out the fire using a helicopter and a special fire train.
On February 24, Russia launched a military operation in Ukraine, which was followed by angry international reactions and the imposition of "tough" economic and financial sanctions on Moscow.
Russia requires Ukraine to abandon any plans to join military entities, including the North Atlantic Treaty Organization, "NATO", and to maintain complete neutrality, which Kyiv considers an "interference in its sovereignty" to end the operation.