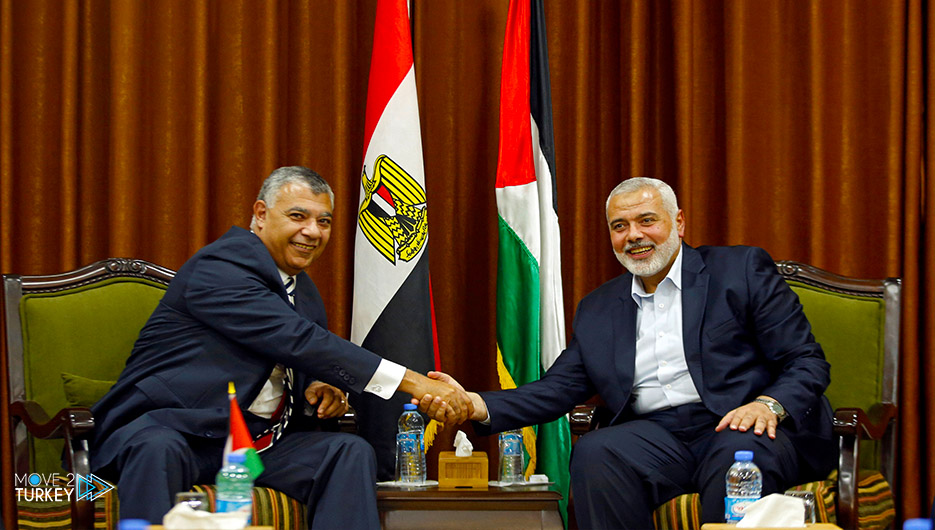 The Islamic Resistance Movement said on Thursday that a leading delegation headed by Ismail Haniyeh, head of its political bureau, met the Director of Egyptian General Intelligence Abbas Kamel in Cairo.
The movement's official website stated that the meeting (on Wednesday-Thursday night) included a discussion of several issues, especially confirming the results of the battle of the "Sword of Jerusalem".
Especially in the city of Jerusalem and the Al-Aqsa Mosque, and consolidating the great achievement made by the resistance and the Palestinian people.
The "Sword of Jerusalem" is the name given by the Palestinian resistance factions in the Gaza Strip to the recent military confrontation with Israel, which in turn named its military operation in Gaza as "The Guardian of the Walls".
It was also emphasized, according to the movement's website, to "strengthen the relationship with brotherly Egypt and ways to develop it, and that Egypt undertakes many important files on the Palestinian level."
He added that the Hamas delegation thanked Egypt for its stances before, during, and after the Battle of the Sword of Jerusalem and for its efforts to stop the (Israeli) aggression and rebuild the Gaza Strip.
During the meeting, the two sides also discussed "means of rearranging the Palestinian house and strengthening its internal unity."
On Tuesday, "Hamas" announced the arrival of Haniyeh to Cairo at the head of a delegation from its leadership, in response to an invitation from the Egyptian leadership to hold dialogues on "various political and field developments."
On May 30 and 31, Kamel visited Tel Aviv, Ramallah, and Gaza, during which he held meetings with officials in Israel, the Palestinian Authority, and Hamas.
Kamel's meetings focused on consolidating the cease-fire agreement between Israel and Gaza, which began at dawn on Friday, May 21, with Egyptian mediation.
On April 13, the situation in Palestine erupted as a result of Israeli "brutal" attacks in the city of Jerusalem.
The escalation extended to the occupied West Bank and the Arab areas inside Israel, then turned into a military confrontation in Gaza that lasted for 11 days and ended on May 21.