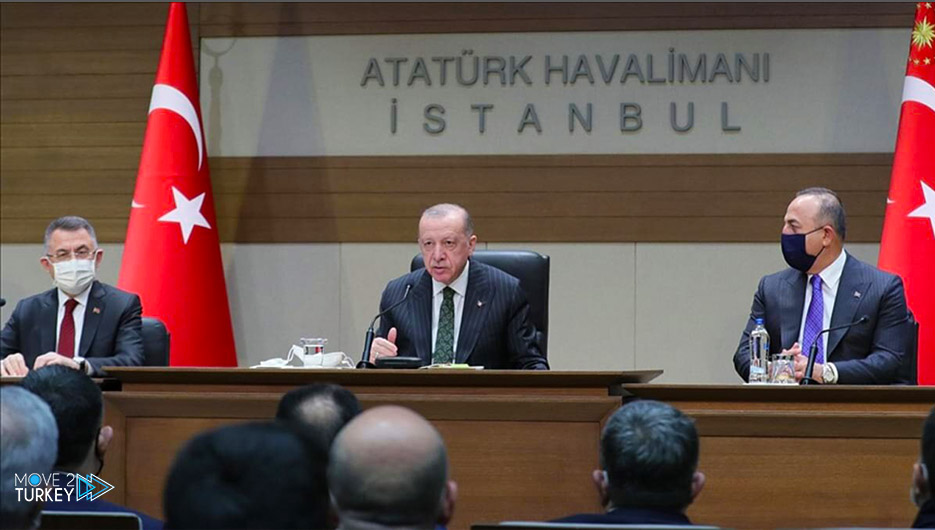 Turkish President Recep Tayyip Erdogan stressed that dialogue and cooperation between his country and the United Arab Emirates are important in terms of stability and peace in the entire region.
This came in a press conference on Monday at Ataturk Airport in Istanbul, before heading to the UAE for a two-day official visit.
President Erdogan pointed out that the visit comes at the invitation of Abu Dhabi Crown Prince, Sheikh Mohammed bin Zayed Al Nahyan, and that a large delegation is accompanying him during the visit.
He pointed out that his last visit to the UAE was in 2013, when he was prime minister.
He noted that relations between the two countries entered a new phase, with the visit of Abu Dhabi Crown Prince Sheikh Mohammed bin Zayed to Ankara last November.
He also noted that Turkish Foreign Minister Mevlut Cavusoglu visited the UAE in December, followed by a visit to the Speaker of the Turkish Parliament, Mustafa Sentop, last January.
And he added, "Through my visit, we aim to take the necessary steps to develop the momentum in our relations and raise them to the level they deserve again."
He added, "During my visit, we will together take the steps that will shape 50 new years of our friendship and brotherhood with the United Arab Emirates, which celebrates its fiftieth anniversary."
He added, "Dialogue and cooperation between Turkey and the United Arab Emirates are important in terms of peace and stability in our entire region."
He stressed that Turkey does not distinguish between its security and stability and the security and stability of all sister countries in the Gulf region.