The beautiful country of Turkey is one of the Asian/European countries that is very popular among foreign tourists, due to its tourist areas, cultural places and restaurants.
In addition to its other historical monuments in its cities, especially the city of Istanbul, as it is one of the tourist and industrial cities in which many tourists travel to enjoy this beautiful city.
Along with visiting its various historical sites, tourists also benefit from souvenirs in Istanbul.
it is worth noting that the diversity of souvenirs has attracted the attention of most tourists to a part of the traditions and culture of the Turkish people through handicrafts, plates and decorative objects, thus, it is in addition to the development of the tourism industry in Istanbul, buying and selling souvenirs is an important thing and an important milestone among tourists.
What do Istanbul souvenirs include ?
Decorative utensils
Copper Plates
Decorative pieces
Stones protection from envy and the eye
Traditional sweets
Turkish tea and Turkish coffee
Spices
Clothing
Colored chandeliers
Buy decoration pieces as souvenirs from Istanbul, Turkey :
One of the most famous souvenirs in Istanbul is Turkish decoration and pottery, as these dishes are designed with a variety of paintings in different and very impressive colors, and most of the colors used in this type of pottery are the cheerful and bright colors of red, blue and green, which differed in creating beauty and art in different species for such pottery.
Among the types of decorative pottery, we mention all kinds of colored cups, plates, vases and jars, and the designs on pottery are very subtle and technical, so that you can clearly see the elegance in the form and design of these handicraft artworks, and in some galleries, there are also potters whose art is absolutely amazing.
In addition to pottery, ceramic vessels with different paintings are also sold, which fall under the category of decorative vessels, a time between ceramic pots, blue ceramic pots are a symbol of the souvenir of this city, and the decorations and drawings designed on these dishes are very beautiful and stunning.
Buy copper dishes as souvenirs from Istanbul, Turkey :
Another accessory that still has many uses among the Turkish people and in Turkey are copper dishes, and they are often made of copper cups to serve Turkish tea or coffee, and they also use these dishes to serve traditional foods and brew Turkish tea and things like that, while dishes, other copper pots include copper pots for cooking and food testing, and copper jars are also used to decorate the interior decoration of the environment.
Buy decorative pieces as souvenirs from Istanbul:
Decorative pieces such as monuments and symbols of historical places in Istanbul are small sculptures reminiscent of the culture and art of the historical, cultural and religious monuments of Istanbul.
Such as Dolmabahce Palace, Topkapi Palace and other monuments in Istanbul.
These types of decorative pieces are usually sold inside museums, it can be used in addition to the experience of visiting historical sites to purchase such souvenirs.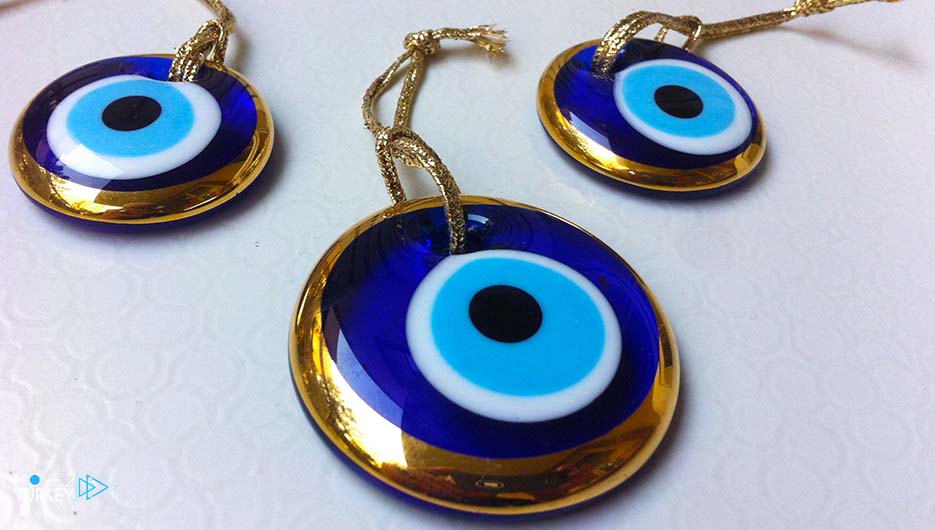 Buying eye and envy protection stones as souvenirs from Istanbul:
The famous blue-eye protection stones are not only a souvenir of this city, but also a souvenir in circulation in all cities in Turkey.
The Turkish people believe in the greenhouse of the eye and envy, and this symbol can be found in abundance in most parts of the city, even in Turkish homes and shops And merchandise stores.
Eye protection stones are commonly used as wall hangings, bracelets, ties and necklaces, and as a variety of jewelry.
This type of stone can be purchased in different types and sizes, and Turkish people believe that the symbol of greening the eye avoids misfortunes and negative thoughts.
Therefore, this symbol has been used in the sale of most handcrafted Turkish souvenirs, especially rhinestones, key chains and other decorative items, and these beautiful blue stones are considered one of the best gifts.
Buying traditional sweets as souvenirs from Istanbul:
The delicious traditional sweets are among the most famous and most popular pastries, as they are easy to find everywhere, such as baklava, lokum, and other delicious desserts that can be savored before shopping.
The lokum and baklava sweets are usually served with tea, but Turkish Lokum is less sweet than baklava and it is sold in small square shapes in elegant packages.
The percentage of sweetness in baklava is relatively high, enough to eat a sample or two of it during the day with tea in Istanbul cafes.
Baklava is also sold in elegant and different packages, it is worth noting that pistachios and walnuts are used in filling and decorating layers of baklava sweets, which doubles its taste.
The taste of Turkish baklava and the Turkish Lokum differs somewhat from its flavors and taste in other countries. Turkish spices are used in them, these traditional sweets are wonderful for a delicious snack.
Buying Turkish tea and coffee as souvenirs from Istanbul:
If you go to cafes in Istanbul and the rest of Turkey, the only fragrance you can smell is the smell of Turkish tea and coffee.
So that some restaurants, after serving customers, complete their reception immediately with Turkish tea and coffee along with traditional sweets that are one of the aesthetics of Turkish customs and culture.
It is worth noting that Turkish coffee is offered to guests in traditional Istanbul cafes and in traditional sessions.
For this reason, Turkish tea and coffee are among the purest souvenirs in this city that you can prepare for yourself and your acquaintances from this tourist city in Turkey.
Buying spices and condiments as souvenirs from Istanbul:
Spices are another ingredient that can be obtained from specialised and grocery stores. As the quality of Turkish spices is one of the most important raw materials in preparing various Turkish dishes, and for this it is very popular.
The taste and aroma of Turkish spices are the favorites of most people interested in the taste of the art of cooking.
Buying clothes as souvenirs from Istanbul:
Clothes and all their accessories such as bags, shoes, belts, children's clothes, women's and men's clothes with Turkish materials and brands are among the most popular gifts in Turkey. Which most tourists welcome to buy Turkish goods.
Tourists can even get the best quality and at a very good price to buy the most suitable number of Turkish goods.
Therefore, buying clothes is one of the first souvenirs in Istanbul that come to the minds of tourists.
But due to the quality of Turkish goods and their cost-effectiveness, clothes can be considered one of the shopping priorities of tourists in Turkey.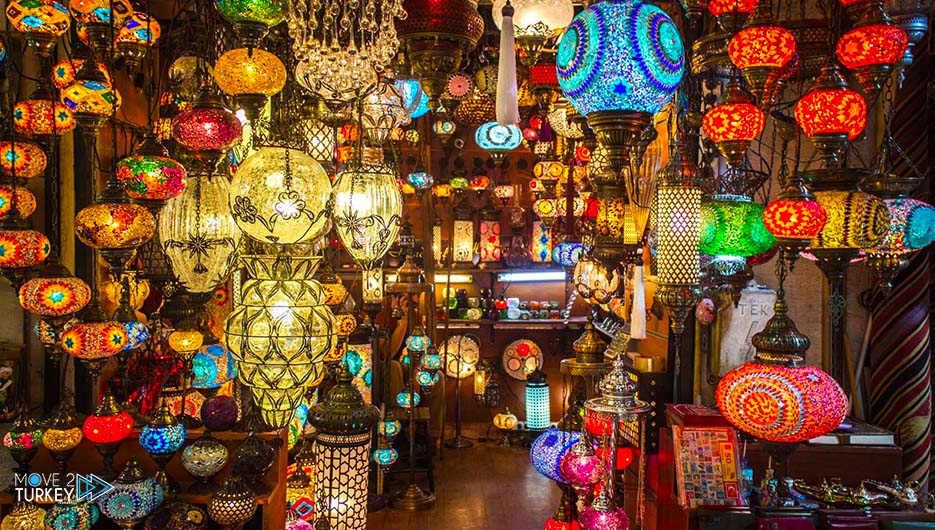 Buying colored chandeliers from Istanbul as souvenirs:
Colorful and beautiful chandeliers are other goods that can be bought from handicraft and adornment stores in Istanbul.
These chandeliers are made of different types of glass, ceramics and tiles, and colored lamps are installed in them. Which makes them shine beautifully at night.
These colored chandeliers are sold in different sizes and colors, and it is worth remembering that nothing like colorful chandeliers give a very special and beautiful effect on the interior design of the environment.
Other souvenirs you can buy in Istanbul, Turkey :
Handmade rug
Miniature sculptures
Chocolate
makeup
After reading this article, you are now completely free to choose one of these gifts to give to your friends, or to put in your home after your return from a beautiful trip from Istanbul, to remember a splendid experience with the smallest details, concluded in some simple pieces from Turkey that remain with you.