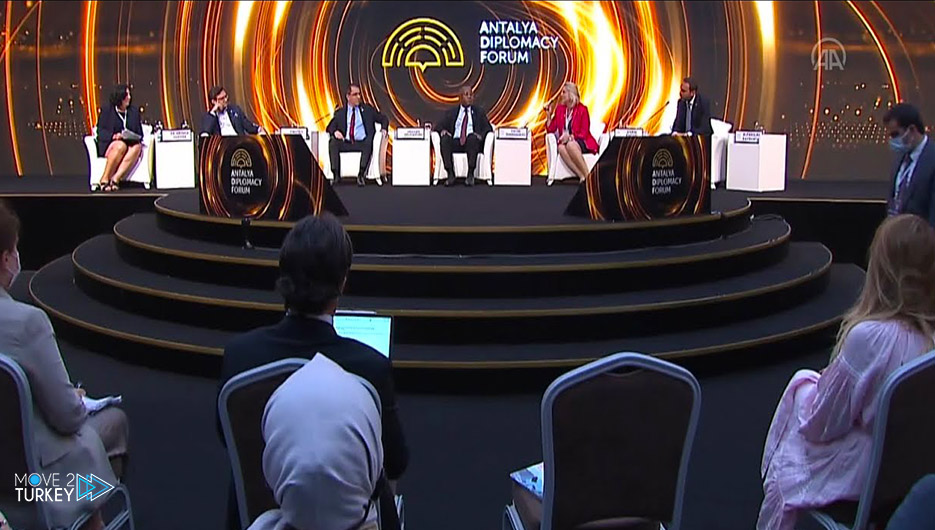 Turkish President Recep Tayyip Erdogan and Foreign Minister Mevlüt Çavuşoğlu held more than 50 meetings with officials and leaders participating in the Antalya Diplomatic Forum from June 18-20.
The forum, which was held amid precautionary measures against the Coronavirus, began with the opening speeches of President Erdogan and Çavuşoğlu.
11 countries participated in the forum at the level of the President of the Republic and the Head of Government, while 41 ministers represented their countries in the diplomatic event.
In addition to leaders and ministers, the forum was attended by representatives of more than 60 international organizations.
Meanwhile, Çavuşoğlu, President of Kosovo Vuza Osmani, and basketball coach Ergin Ataman met with a number of young people within the framework of the forum, and they exchanged experiences with them in the diplomatic field.
President Erdogan and Cavusoglu held more than 50 bilateral meetings on the sidelines of the forum.
These included President Erdoğan meeting separately with President of Montenegro Milo Đukanović, President of Kenya Uhuru Kenyatta, President of Kosovo Fouza Osmani, and President of Haiti Jovenel Moïse.
In turn, Çavuşoğlu held 35 bilateral meetings with his counterparts, including Poland's Zbigniew Rau and Gabonese Bakum Mobley Probe.
In addition to the Cameroonian Legon Mbale.
Iranian Mohammad Javad Zarif, Venezuela Jorge Arreaza, and Malagasy Djacoba Liva Tehindrazanarivelo.
The Antalya Diplomatic Forum is the first forum to be held on the international scene after the outbreak of the Corona epidemic, in which bilateral agreements were reached on various issues.
The forum concluded with a press conference held by Çavuşoğlu on Sunday.