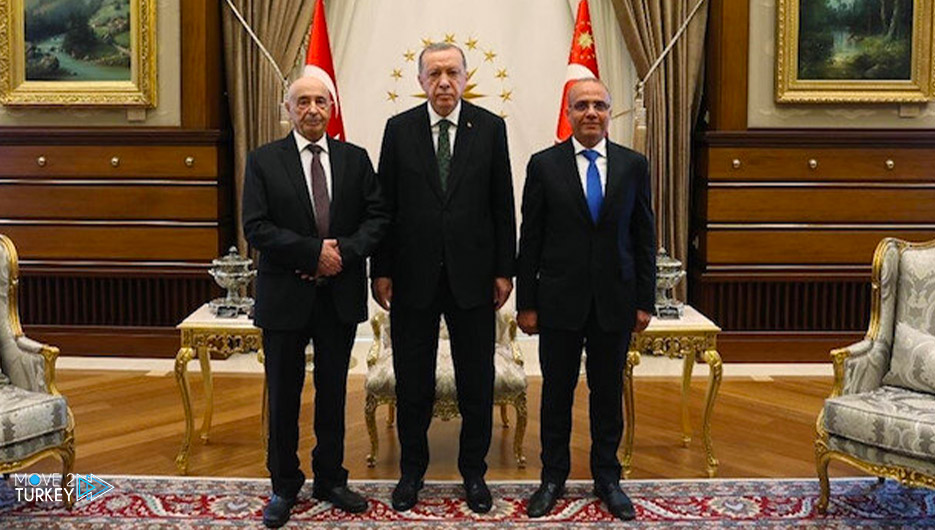 Turkish President Recep Tayyip Erdogan received on Tuesday the Speaker of the Libyan House of Representatives in Tobruk, Aqila Saleh, and the Vice President of the Presidential Council, Abdullah Al-Lafi, in the capital, Ankara.
The meeting between Erdogan, Saleh and Lafi took place in the presidential complex in Ankara, away from the media's lenses.
The meeting was attended by President Erdogan, Speaker of the Turkish Parliament Mustafa Şentop.
For his part, Al-Lafi said in a statement through his official account on Facebook, "We met today in Ankara, Turkish President Recep Tayyip Erdogan, in the presence of Parliament Speaker, Counselor Aqila Saleh."
He added, "We discussed the relations between the two countries and the political developments in Libya."
He stressed that "the points of view agreed to preserve the unity of the Libyan territory and expedite the conduct of the electoral process through the necessary and agreed upon legislation through one strong government."
As well as "emphasizing the exclusion of a military solution and stopping all escalations that impede the building of a civil and democratic state," according to the statement.
Fears are rising that Libya will descend again into a civil war in light of the presence of two conflicting governments since the Parliament in Tobruk in early March granted confidence to a new government assigned to it headed by Fathi Bashagha.
The head of the internationally recognized government, Abdel Hamid al-Dabaiba, refuses to hand over power except to a government that comes through a parliament elected by the people to end all periods and transitional bodies.