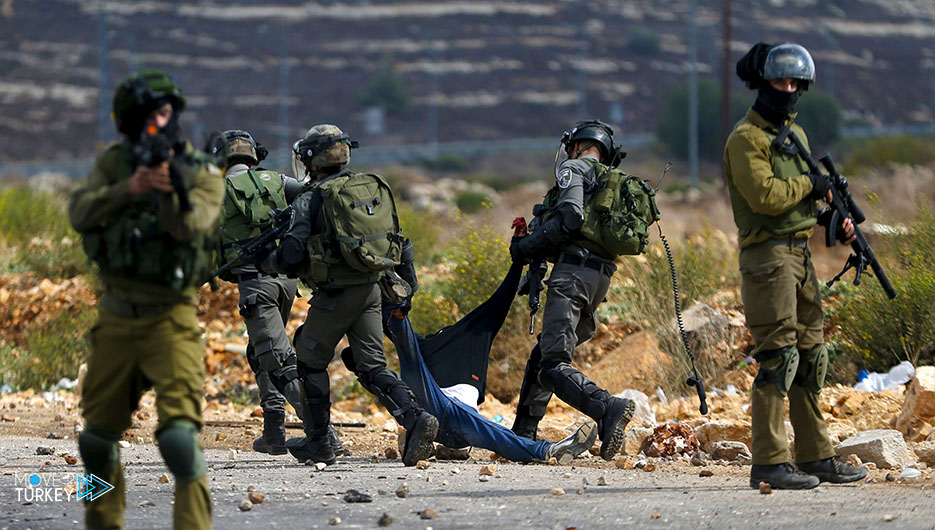 Dozens of Palestinians were injured by suffocation, 10 by rubber bullets, and one by a gas bomb in the head on Friday during confrontations with Israeli forces in the occupied West Bank.
Ahmed Jibril, director of ambulance and emergency at the Red Crescent Society in the northern Nablus governorate, said that a Palestinian was hit by a gas bomb directly in the head, during clashes that erupted in the town of Beita, south of Nablus.
In a brief statement, Jibril described the young man's injury as "stable" and explained that the number of injuries in the town of Beita was divided between 5 with rubber bullets, 24 suffocation, and 9 accidents.
Israeli soldiers fired a barrage of gas bombs at demonstrators refusing to establish a settlement outpost on "Sabih Mountain" from Beita lands, according to videos distributed by activists and journalists.
Hundreds of Palestinians in "Beta" responded to the call of the youth movement in the town to gather and participate in Friday prayers.
In the town of Beit Dajan, east of Nablus, 5 Palestinians were injured by rubber bullets, and dozens of others suffocated as a result of inhaling tear gas. Jibril said that all the injuries were "treated in the field."
The eastern region of Beit Dajan witnesses weekly popular activities, rejecting the decision to confiscate a large area of ​​Palestinian land to build a settlement outpost.
In the village of "Kafr Qaddoum", east of the city of Qalqilya (north), dozens of Palestinians suffocated as a result of the occupation army's suppression of the weekly anti-settlement march in the village of "Kafr Qaddoum".
The coordinator of the popular resistance in "Kafr Qaddoum", Murad Shteiwi, said in a statement that the soldiers fired rubber-coated metal bullets and tear gas canisters, causing dozens of suffocation and field treatment.
To the east of the town of Yatta, south of Hebron, Israeli soldiers dispersed a march called for by official, organizational and civil frameworks.
Among them is the "Committee for Resistance of the Wall and Settlement" of the Palestine Liberation Organization.
Fouad Al-Amour, the coordinator of the (non-governmental) Protection and Resilience Committee, said that dozens of protesters "fainted."
This is the result of the occupation forces firing gas bombs at demonstrators who own lands threatened by settlement and are in solidarity with them.
Al-Amour indicated that an elderly man was bruised after being attacked by Israeli forces, and several demonstrators were arrested and then released.
Israeli and Palestinian estimates indicate that there are about 650,000 Israelis in settlements in the West Bank, including occupied Jerusalem, and they are located in 164 settlements and 124 outposts.